JonTavius Lake was born with Sickle Cell Disease, and for 22 years his life was filled with consistent pain.
"As Sickle Cell warriors, we have to learn how to cope with pain every second of our lives," he said. "It's a blood disease, so you can have pain anywhere blood travels in your body."
But now JonTavius — an employee at our Best Buy store in Tuscaloosa, Alabama — is free of excruciating pain and motivated to help others. He recently became the first person in Alabama to be cured of the disease through a clinical trial of haploidentical full-matched bone marrow transplant.
He says the procedure has transformed his life.
"I can feel the difference day by day," he said. "I feel invincible. I'm getting stronger, I have more energy and I can breathe better."
And he's passionately sharing his story in hopes of raising awareness and helping others who are suffering through the disease in the same way he was. The tech-savvy 23-year-old documented his transplant experience in a series of video journals on YouTube and converted them into a documentary.
Living with Sickle Cell Disease
Sickle Cell Disease is an inherited blood disorder that affects the red blood cells in the body. It affects approximately 100,000 Americans, including a disproportionate percentage of the Black population.
Normal blood cells are round and carry oxygen through the body, but those with the disease have sickle-shaped, or c-shaped cells, that don't transfer enough oxygen. The cells can also get trapped in small blood vessels, creating painful episodes — or pain crises — that can be caused by stress, working out too hard or even weather changes.
"A pain crisis is when our pain becomes so unbearable that we have to go to the hospital," JonTavius said. "I would always wait until my pain was at a level 10 before I went in because I was already living with moderate to severe pain almost every day."
When he was younger, he would experience pain crises twice a year when the weather changed. But as he got older, those visits became more frequent — at first, four times a year, and then once a month and eventually twice a month.
So, when JonTavius had the opportunity to participate in the trial, he knew he had to take it, even if there was still a risk of complications.
"They only had one slot available at the time," he said. "When I brought it up at my appointment, my doctor brought out a huge folder of paperwork. I remember it was a Friday. I read it all — half of it just on the way home, then two or three more times that weekend. I called her on Monday and told her I was ready."
JonTavius started the trial in July after he found the perfect match for his bone marrow donation — his father, John Lake. He says without his father stepping up, the treatment wouldn't be possible.
The trial consisted of six grueling weeks in the hospital, several rounds of chemotherapy and radiation, and the bone marrow transplant.
"You're in so much pain, nobody understands what's going on," JonTavius said. "I needed to find ways to cope with it. I had to think positively and tell myself I was more powerful than the disease."
And, in fact, he was. JonTavius completed the trial, and it was a success.
"Sept. 21 was the day I was told I was 100% Sickle Cell free," he said. "I didn't expect to hear that so fast, I was shocked. It didn't even hit me until I was home, and I just started crying. I was extremely happy."
Sharing his medical journey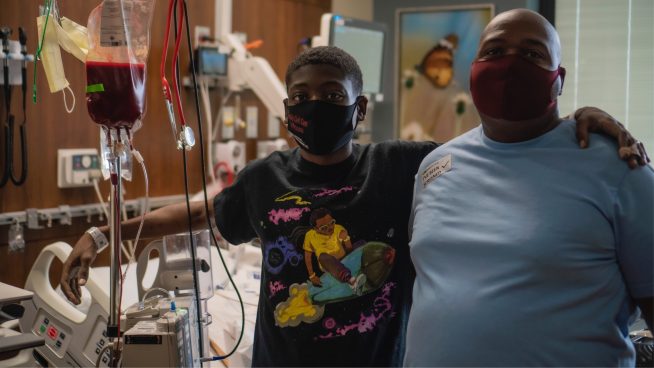 Before even signing the papers to begin the trial, JonTavius knew he wanted to document his experience so others living with Sickle Cell Disease could have a real look at the treatment.
"I told my doctor if I couldn't film the process, then I didn't want to do it," he said. "They thought long and hard on it and agreed, and that's how it came to be. Some people tried to stop me [from filming], but I read every rule and regulation before I stepped foot in the hospital."
He filmed his entire stay, including his painful and exhausting treatments and the side effects — even on the toughest days.
And now the final documentary is getting noticed. JonTavius has received messages from people all over the world who have watched his documentary.
"It's inspiring, I never would've thought people would look up to me like this," he said. "People with Sickle Cell are going through a lot of struggles that people don't see. That's why it's important for me to be an advocate and to help make people aware there's a cure."
That work is just beginning. JonTavius plans to continue sharing his story on YouTube and advocating for others who are living with Sickle Cell Disease. He also hopes to educate as many people as he can about bone marrow donations, so more people living with the disease can get the same opportunity he did.
Returning to a new normal
For the first time since his treatment, JonTavius returned to work at the store on Dec. 22, and he was welcomed with open arms.
"It feels great to be back," he said. "It was amazing to see that people care about you more than you know. They wanted me there as much as they did before I left more than nine months ago."
The team had a big banner with inspirational quotes and JonTavius' "Power Up" mantra all over the store waiting for him.
"Everyone was super excited to have him back in the store," General Manager Elaine Weaver said. "We knew that it was important for him to be back at work, and we wanted to make it a really big deal for him."
And it quickly became apparent that JonTavius isn't just inspiring strangers.
"I'm so inspired by his journey and his strength through everything," Elaine said. "It's obvious he wants to do big things with his life, he wants to help others who are going through the same situation."
JonTavius says the support and flexibility from his team has inspired him to pick up more shifts.
"I'm coming into the store as much as I can," he said. "Seeing how much the people here still care about me pushes me to come to work. They adapted the job for me, they consider how my body is feeling and they let me feel like a normal human without making me feel incapable."