Investment is the latest example of Best Buy's commitment to increase BIPOC representation, both inside the company and within the tech industry
Commitment aims to build a diverse tech ecosystem by breaking down systemic barriers to funding and empowering the next generation of entrepreneurs
Last year, Best Buy committed to "do better," and now we're taking the next step in delivering on that promise. We are investing up to $10 million with Brown Venture Group, a venture capital firm that focuses exclusively on Black, Latinx and Indigenous technology startups in emerging technologies.
The goal of this investment is to help break down the systemic barriers often faced by Black, Indigenous and people of color (BIPOC) entrepreneurs — including lack of access to funding — and empower the next generation within the tech industry.
Brown Venture Group, which is expected to be one of the largest funds in the U.S. with a required diversity mandate, is working toward supporting tech startups across the country. Investments will begin this fall.
This commitment builds on Best Buy's recent announcement that it will spend at least $1.2 billion with BIPOC and diverse businesses by 2025, with a focus on funding and supporting partner organizations that are empowering BIPOC leaders in the tech industry. Over the past year, we have made several commitments to better address underrepresentation, including filling one out of three new non-hourly corporate positions with BIPOC employees. We also committed to hire 1,000 new employees to our technology team, with 30% of them being diverse, specifically Black, Latinx, Indigenous and women.
"We're committed to taking meaningful action to address the challenges faced by BIPOC entrepreneurs," Best Buy CEO Corie Barry said. "Through partnerships like this, we believe we can begin to do this by helping to build a stronger, more vibrant community of diverse innovators in the tech industry, some of whom we hope will become partners of Best Buy in the future."
The partnership with Brown Venture Group will work toward making the technology startup landscape more inclusive and creating a stronger community of diverse suppliers. Additionally, to support youth in the community, Best Buy and Brown Venture Group will launch an entrepreneurship program at Best Buy Teen Tech Centers to help develop young entrepreneurs through education, mentorship, networking and funding access.
Empowering entrepreneurs in tech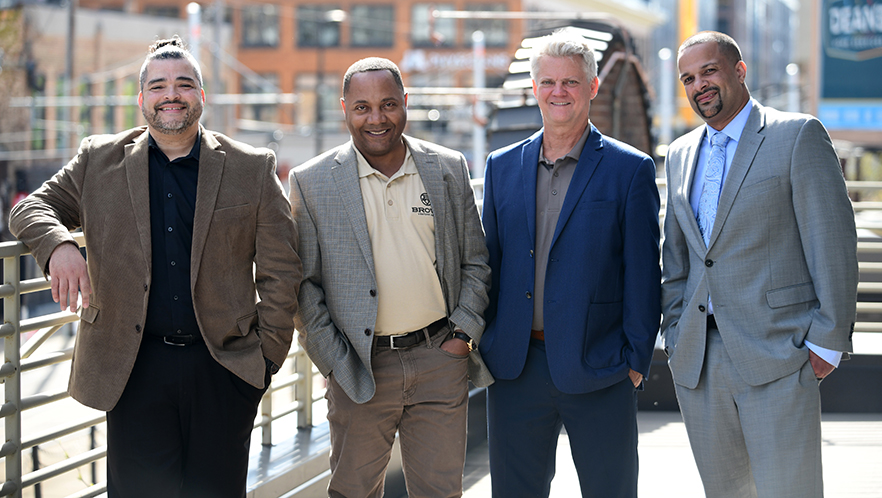 Founded in 2018, Minneapolis-based Brown Venture Group is in the process of raising its inaugural $50 million fund. The fund's goal is to close the wealth and opportunity gap through inclusive BIPOC investments.
With Black and Latinx founders only representing 2.6% of funding in 2020, Brown Venture Group aims to be a change agent in the technology space and shift the landscape to support diverse founders.
"The partnership with Best Buy represents an important shift in our business community from doing things for communities of color to investing and executing with communities of color in longer-term collaborative business relationships," Brown Venture Group Co-Founder and Managing Partner Dr. Paul Campbell said. "This hometown partnership is especially meaningful and Best Buy is to be commended for its commitment to co-creating solutions that will lead to greater economic flourishing for contributors of color."
Brown Venture Group plans to invest in technology startups in various industries across the country, including clean energy and retail, as well as leverage the abundant startup talent that exists within the region and state of Minnesota. For more information, visit brownventuregroup.com.
Other company actions
Last June, Best Buy said we would "do better" and, over the last year, we have shared actions we are taking to better address underrepresentation, technology inequities and educational and career opportunities for those who need it most.
Those actions include providing $44 million to expand college prep and career opportunities for BIPOC students and spending at least $1.2 billion with BIPOC and diverse businesses by 2025. Through these pledges, we will focus on several initiatives, including hiring more BIPOC and women employees and creating more opportunities and post-secondary support for youth and emerging talent. 
For a complete overview of how we are driving inclusion and diversity within our company and communities, visit our website for more information.