Jordan Entwistle now holds three titles: College student, Best Buy employee and javelin champion.
The junior at the university in Dartmouth, Massachusetts, just nabbed a gold medal at the 2019 Division III Outdoor Track & Field Championships.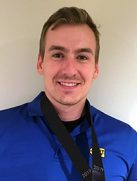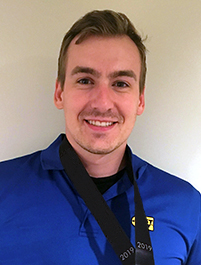 "I'm still on Cloud 9," Jordan said of his 64.27-meter launch.
He entered the competition as a first seed following a 66.43-meter throw in a Division I competition earlier this month, a nerve-wracking position — especially in a sport where precision is paramount. Every slight motion, every small step and every single angle combine to determine the length of a javelin's flight.
Jordan found himself relying on his eight years of experience and countless throws to keep him focused on earning the top spot.
"Everyone's gunning to beat you. I had to make sure I was confident enough in my ability and in the position that I was in," he said. "I wanted to make sure I didn't accept anything less than first place."
Jordan was a freshman in high school when he was introduced to the sport by his dad, who also threw javelin in college.
"My dad said congrats and joked, 'I taught you everything you know,'" Jordan said. "Definitely, his coaching — and that of other coaches — just accumulated for me."
But Jordan's dad is not the only one brimming with excitement. There's a smile on the face of Keith Pace, general manager of the Best Buy store in North Dartmouth, where Jordan works part time.
"I am like a proud papa!" Keith said. "We are ridiculously proud of Jordan for his hard work, perseverance and commitment to excellence. Watching him succeed in his collegiate athletic career has been a real treat."
Classroom, track field, sales floor
Jordan has worked at two Best Buy stores in Massachusetts, saying he likes the fun atmosphere. He also appreciates the company's flexibility, which allows him to work while pursuing his business management degree and athletics goals.
"I love working at Best Buy, but also love throwing javelin," he said. "I work with my leaders at the store to make sure our schedules align with each other, so I still have time for everything. We plan ahead, and they support me."
Jordan, a home theater associate, compares the adrenaline rush of javelin throwing with that of working on the busiest day of the retail year: Black Friday.
"You're rushing, your head is on a swivel, you have to focus on what you need to do," he said. "There's a crowd around you at a track meet, and a crowd around you in the store. You have to focus and get your job done."
It's that focus and dedication that Keith says makes Jordan shine in his role at Best Buy.
"Jordan is a bright light in the store, always full of energy and excitement, which he transfers to his peers and his customers. He puts great value on his education and even worked with me on a recent management project," Keith said. "But even with his rigorous school schedule he finds the time to commit to a part-time, successful role here and also his athletic career."
Jordan says he's displaying his gold medal next to his TV (of course). But he isn't resting. He's staying tuned into his sport so he can continue his undefeated season and aim for his next goal: 76 meters.
Stay sharp, Jordan.
(Photo courtesy of UMass Dartmouth Athletics)
Visit our careers site to learn more about working at Best Buy.