Like a sports team preparing for a big game, more than 80 Best Buy employees gathered at a store in Las Vegas early Saturday morning to practice for the busiest shopping days of the year.
A mix of retail rookies and seasoned veterans, they used the time to review plans for how they will serve the crowds of shoppers that will visit the store on Thanksgiving evening and Black Friday. They discussed their roles and responsibilities, where the lines will form and how the ticketing process for the hottest doorbuster deals will work.
"I've been doing this for 11 Black Fridays now, and it definitely helps to focus your mind on everything that's going on," said Mike Isbell, the store's assistant sales manager. "The more I help explain it to other people, the more I remember the exact plan. And it's great to see how their faces light up when something clicks."
Mike and his co-workers weren't the only ones practicing. Best Buy employees at all of our nearly 1,000 stores nationwide participated in similar dry run sessions this weekend. It's an annual tradition designed to ensure we're ready to provide a fun and safe Black Friday experience for our customers and employees.
"There's no stress. I'm super excited at this point," Mike said. "I feel like a lot of the work is already in place. We have our plan, and the plan is rock solid."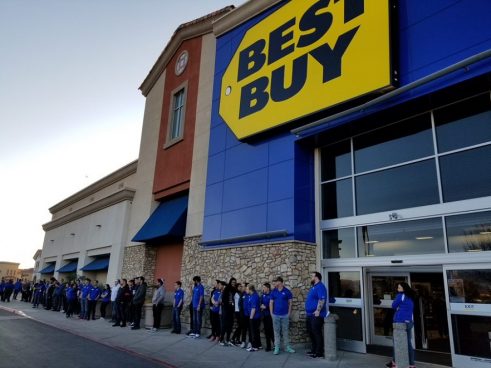 'It's super fun'
As Nov. 28 and 29 draw near, the anticipation at our stores is building.
"I'm a little nervous because this is my first Black Friday here," sales associate Christina Gonzalez said. "But I know I have a great team, and they're going to have my back. So, I'm really excited."
Quincy Young, who works in home theater, has been working in retail for years and knows what to expect.
"The thing I like about it is it's really fast-paced," he said. "It's one of the coolest shifts because you're talking to all these people, answering all these questions. It's super fun."
Mike agrees. He's looking forward to 5 p.m. on Thanksgiving night.
"My favorite part is the five minutes after we open the doors," he said. "The customers come in, and everyone is starting to scurry to get into their positions. There's kind of the calm before the storm, and then this wave hits and it's like, 'Here we go!'"
Click here for more information about this year's Black Friday deals.