Thanks to the generosity of our customers and passionate support of our employees, Best Buy raised more than $18.2 million during its three-month St. Jude Thanks and Giving® campaign held during the holidays.
On Wednesday, a group of Best Buy employees and leaders traveled to St. Jude Children's Research Hospital® in Memphis, Tennessee, to present the donation and see firsthand how the money is transformed into miracles. This year's contribution might help in any number of ways, including covering the cost of 12,000 days of chemotherapy or 3,600 days in intensive care rooms.
Ben Sams, general manager of Store 170 in Brentwood, Tennessee, said supporting St. Jude this holiday season was a collective effort of all his store's employees. "We celebrated every customer donation on Black Friday by ringing bells in our store," he said. "It's an honor to represent the generosity of our Nashville community and meet the patients and families this money will support."
Also among the Best Buy leaders touring the hospital was Rick Morgan, general manager of Best Buy Store 163 in Annapolis, Maryland.
"It's something we can all relate to because everyone knows someone who's affected by cancer. In our store, all of our employees clap for donations and make an announcement, which gets other customers excited to get involved," Rick said. "Our employees take pride in this, and we have fun doing it. This is something we do to help children at St. Jude. And when our store wins, the children win."
During the visit, Best Buy, with the help of Geek Squad, hosted an imaginative event with hands-on technology experiences for patients and families. Activities included:
Makey-Makey: The program turns various objects into a piano keyboard or game controllers.
Robot kit: Children used heads of toothbrushes to make Bristlebots, which buzz around like bugs.
Digital music: Patients got a special opportunity to mix their own tunes.
Google Expedition: Kids took "out of this world" adventures to outer space, underwater and elsewhere via virtual reality.
"I am really proud of all of our leaders and employees for the work that they've done this year supporting the St. Jude mission. Raising $18.2 million is truly life changing for the patients and families of St. Jude at a time when they need the support the most," said Ray Sliva, senior vice president and retail territory general manager. "I am truly honored to work for a company that believes in making a difference in people's lives."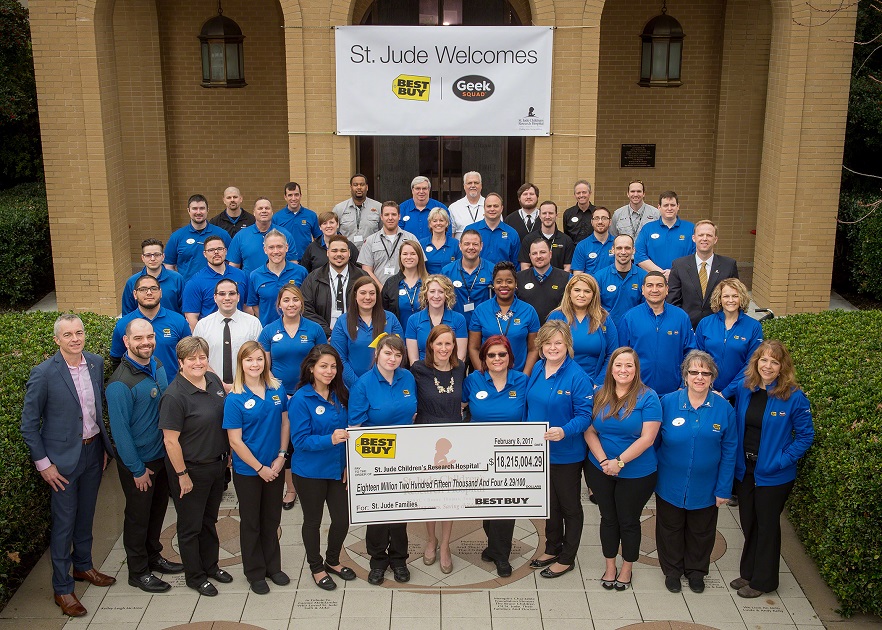 St. Jude Thanks and Giving campaign
Best Buy welcomes the St. Jude Thanks and Giving campaign in its stores and online annually during the holiday season. Every dollar donated by customers helps St. Jude remain at the forefront of the global effort to research, treat and defeat childhood cancer and other life-threatening diseases. In addition, the financial support helps ensure that no family will ever receive a bill from St. Jude for treatment, travel, housing or food. To learn more about St. Jude Children's Research Hospital, visit www.stjude.org.