You can sleigh the holiday with more great tech at Black Friday prices starting on Thursday.
This Thanksgiving, Nov. 26, our stores will be closed, but the deals won't stop. Head over to BestBuy.com to score great prices on some of this season's hottest brands, like Apple, Dyson, KitchenAid and more.
That's not all! Rather than keeping the Cyber Monday fun to just one day, we're celebrating all week long, starting Saturday, Nov. 28.
The best part? All of these deals are available on BestBuy.com so you can shop from the comfort of your couch and still score your favorite tech at Black Friday pricing without having to go into a store.
And don't forget, almost all of our Black Friday deals are running now so start your shopping now to grab the tech for everyone on your list.
Thanksgiving deals starting Nov. 26:
Save up to $200 on MacBook Air
Save up to $70 on iPad 10.2"
$49.99 for JLab Audio Epic Air Sport ANC True Wireless Earbuds (save $50)
$149.99 for Insignia 50" Smart Fire TV Edition (save $200)
Save $150 on Dyson V10 Animal or V10 Animal Pro (sale price: $349.99)
Save $300 on KitchenAid Pro 5 Plus Series Bowl-Lift Stand Mixer (sale price: $199.99)
Save $50 on GoPro Hero9 Black 5K Waterproof Action Camera, and get a free Best Buy $50 gift card (sale price: $399.99)
Cyber Week deals starting Nov. 28:
$199.99 for TCL 55" Class LED 4-Series 4K UHD (save $200)
Save $200 on HP 15" 2-in-1 Laptop (sale price: $799.99)
$199.99 for Dyson V7 Animal Cord-Free Stick Vacuum (save $200)
Save $50 on Unlocked Samsung Galaxy A21. Plus, save an additional $50 with qualified activation (sale price: $199.99)
Save $60 on Bose Noise Cancelling Headphones 700 (sale price: $319)
$179 for Lenovo 11" 2-in-1 Chromebook (save $100)
$149 for HP 11" Chromebook (save $70)
Save $250 on Asus 14" Gaming Laptop (sale price: $1199.99)
$159.99 for Beats by Dr. Dre Powerbeats Pro Totally Wireless Earphones (save $90)
$199.99 for Samsung All-in-One Soundbar with Alexa (save $130)
Save $150 on LG 27" IPS LED 4K Monitor with HDR (sale price: $279.99)
$54.99 for Linksys Act200 Dual-Band Wi-Fi 5 Router (save $35)
$69.99 for Chefman Manual Air Fryer Toaster Oven (save $80)
$99.99 for Keurig K-Café Latte and Cappuccino Coffeemaker (save $100)
Save $1400 on Bowflex BXT116 Treadmill (sale price: $999.99)
Save $200 on Garmin Fenix 5X Plus Sapphire Smartwatch (sale price: $399.99)
Black Friday store hours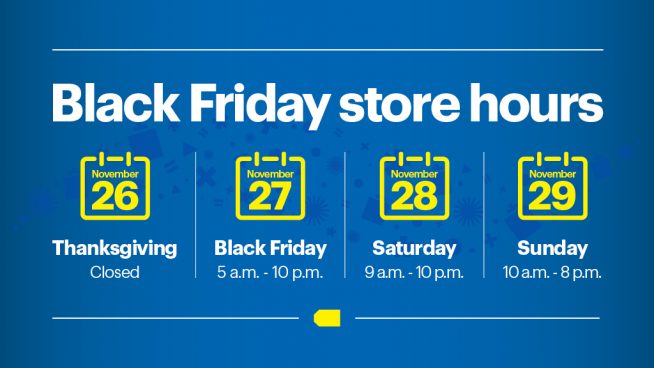 Nearly all our Black Friday deals will be available both online and in stores this year.
As a reminder, our stores will be closed on Thanksgiving this year, but you can still shop all day on BestBuy.com. Stores will be open 5 a.m. to 10 p.m. local time on Black Friday.
We've also extended our holiday hours to accommodate shoppers throughout the holiday season. Our doors are now open from 10 a.m. to 8 p.m. local time.
We're committed to safety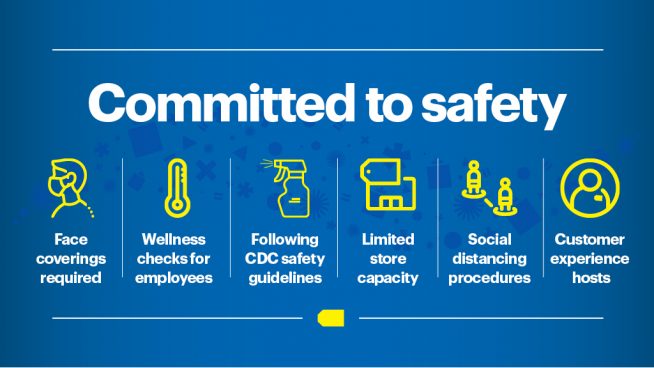 As we all know, 2020 is a different year, and never has the safety of our employees and customers been more important. Learn more about how we're working to keep our stores as safe as possible this year.
More ways to get your tech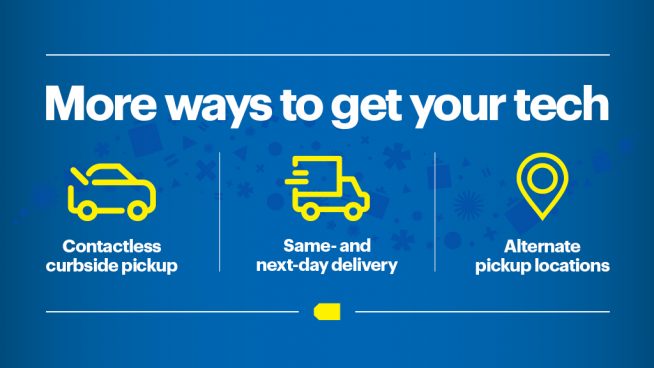 This year, we have so many ways that you can get your tech safely and conveniently. All the details are available on BestBuy.com.
Contactless curbside pickup is now available at all Best Buy stores. Your order will be ready within 24 hours, and we'll safely and quickly bring it out to your car. (Click here to learn more about how it works.)
For more details on our Black Friday deals, click here. For more information on how you can shop safely this season, visit BestBuy.com/ShopConfidently.