Hundreds of shoppers stood in line at the Best Buy store in Minnetonka, Minnesota, on Thursday afternoon, excited for the chance to get their hands on the year's hottest Black Friday doorbusters.
Finally, the doors opened at 5 p.m. "Welcome to Best Buy!" the company's chairman and CEO, Hubert Joly, yelled enthusiastically as the shoppers made their way inside.
And, with that, the holiday shopping season kicked into high gear.
The annual Black Friday frenzy started early Thursday morning with thousands of hot deals online at BestBuy.com. Stores across the country joined in on the excitement later in the day, with most locations opening at 5 p.m.
Here are some highlights from the Minnetonka store.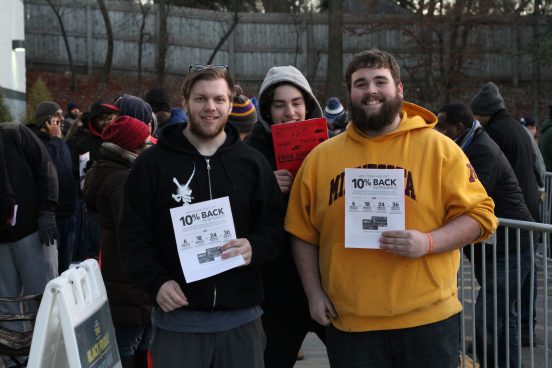 Doug Sorrentino, Jacob Harris and Jackson Parker were the first shoppers in line at the store, arriving at 7:30 a.m. to ensure they'd get their desired doorbuster — a 50-inch Sharp 4K TV for $179.99.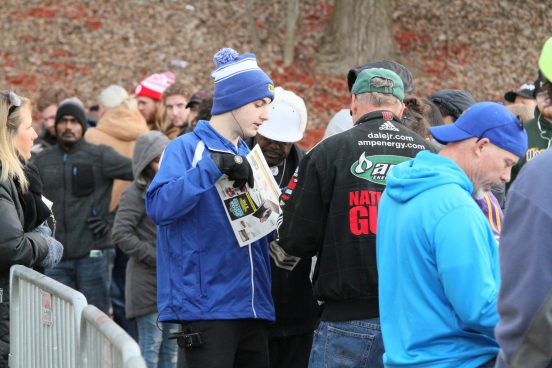 Employees walked the line before the store opened to answer customers' questions and hand out tickets for the top doorbusters. The tickets help to create an orderly process, helping to ensure a fun, safe shopping experience.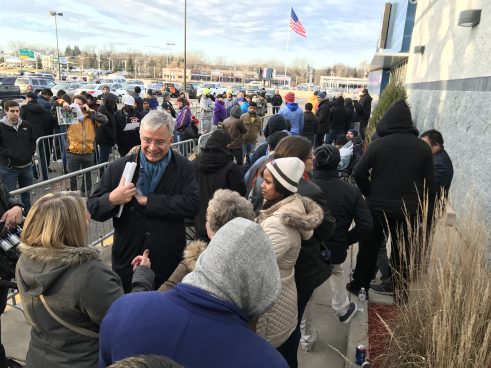 Hubert chatted with customers outside the store and thanked them for shopping at Best Buy.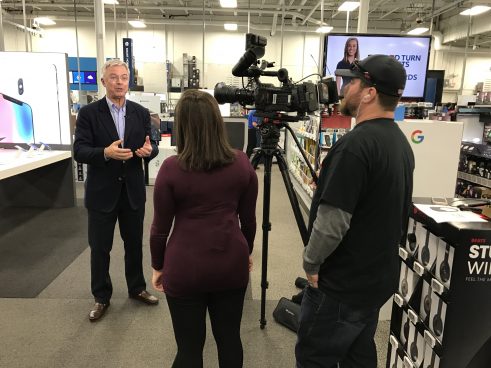 Hubert took a few minutes to do interviews with local media outlets before the store opened.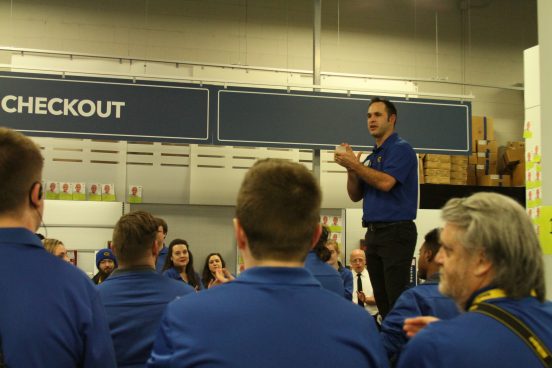 General Manager Brian Maciej rallied his team about 15 minutes before the store opened.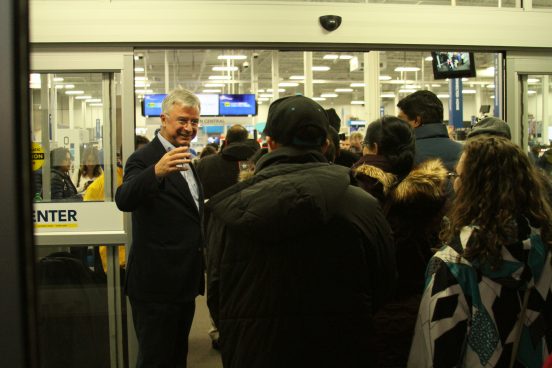 Hubert greeted customers as they entered the store at 5 p.m.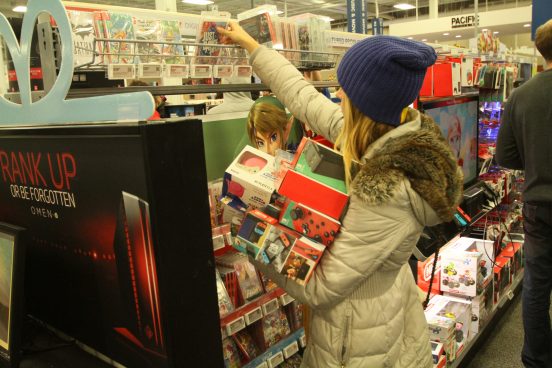 A customer filled her arms with video games and accessories.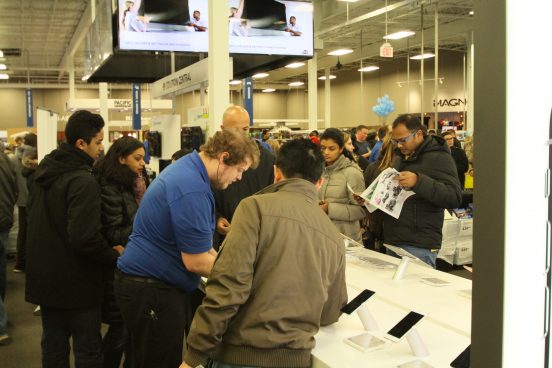 An employee assisted shoppers in the mobile phone department. Our retail teams receive extensive training to ensure they're ready to provide expert service to our customers.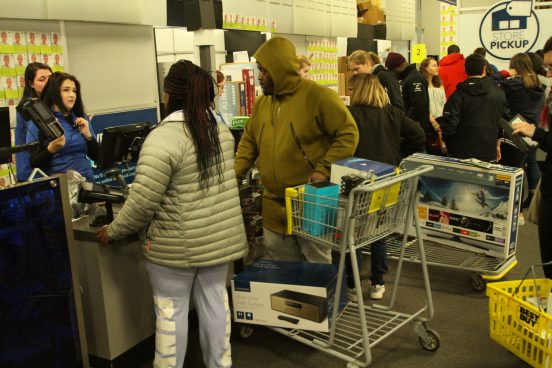 The registers stayed busy throughout the evening as customers made their way to the front of the store to make their purchases.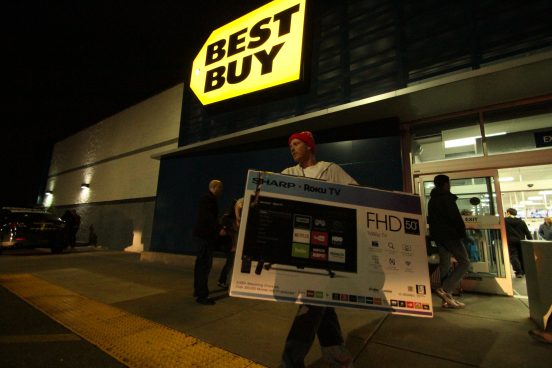 A happy customer left the store with a new 50-inch 4K TV.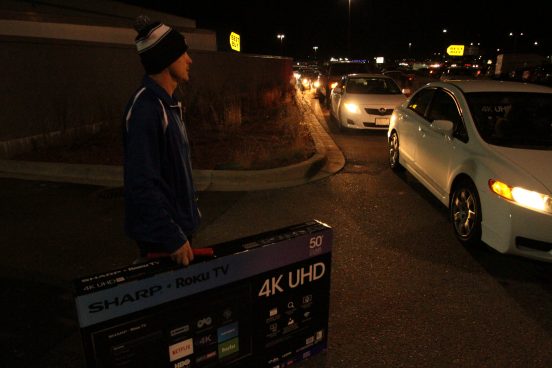 A Best Buy employee helped load TVs into customers' cars as a long line formed at the back of the store.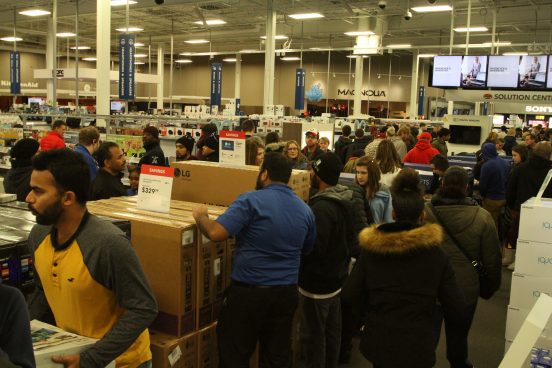 Most Best Buy stores remained open until 1 a.m., giving customers plenty of time to search the aisles for hot deals on the latest and greatest tech products.
There are still plenty of great deals available throughout the weekend. Most Best Buy stores reopen at 8 a.m. on Friday for another round of Black Friday doorbusters, and most deals also can be found online at BestBuy.com.