It was two hours before the Best Buy store in Costa Mesa, California, would open for business Saturday morning, but Blue Shirt sales associates and Geek Squad agents already were streaming into the store.
The reason? It was time to practice. In this case, practice how to serve the crowds of customers who will visit our stores on Thanksgiving evening and Black Friday.
This weekend, nearly 100,000 employees in all of Best Buy's U.S. stores got a refresher on how Best Buy creates a safe and fun shopping experience for customers who want hot deals on technology — either as a gift for someone else or for themselves. Where are customers going to line up before the store opens? How will the ticketing process work for doorbusters ? Where will employees be stationed in the store? How are we going to get people moving through the checkout line?
"These practices are really important," said Paula Baker, Best Buy's president of U.S. retail stores, while visiting the Costa Mesa store. "Our employees know what to expect when they get here, and it gives them confidence in their ability to execute and achieve their goals."
While Thanksgiving and Black Friday are among the busiest days on the retail calendar, that doesn't impact Best Buy's goal of enriching lives through technology.
"What is most important is how customers feel when they come into the store and how we make them feel," Baker told the roughly 200 Costa Mesa employees. "You get to show off what is possible with Best Buy. Holiday is when we are at our very best. We know how to come together and work as a team."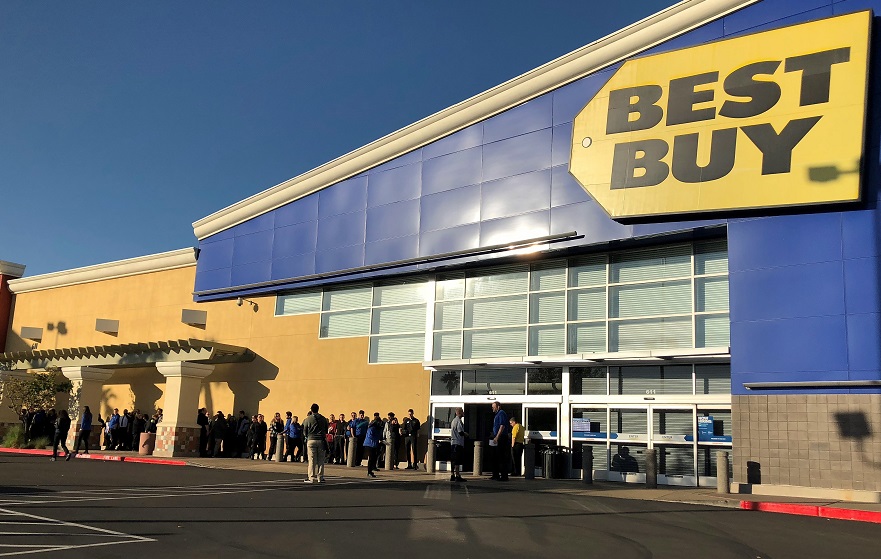 'We have to be prepared'
In Henderson, Nevada, General Manager Ernesto Quinones was running his store through practice Sunday morning. This will be his 15th holiday season with Best Buy.
"I'll never forget the excitement of my first Black Friday. It was wild," he said. "My goal is to give all my employees that same experience. We have to be prepared to help our customers, but also have fun."
It's all about sticking to a plan.
"Everyone needs to know their roles and responsibilities," he said. "The best feeling is when a customer walks out telling me that this was the most organized shopping experience."
This will be Jack Jacobs' eighth holiday season with Best Buy and his sixth running the Costa Mesa store. Every fall, he goes through his journal from the previous holiday and works to find ways to improve. This year, that means there will be another register in the computing department.
"The lines got too long last year," Jacobs said. "We were able to react, but it is about speed."
Ben Fox, a Samsung home theater expert in Waterloo, Iowa, is getting ready for his second holiday season with Best Buy. His store was recently remodeled, so Saturday's training gave him and his coworkers an opportunity to discuss how things will differ for Thanksgiving and Black Friday this year.
"There's definitely a lot of new stuff happening. The whole store layout is just a lot more open, which is really sweet," he said. "Customers have been really impressed with how it looks and how it's laid out."
He said he's prepared and excited for Thanksgiving night.
"Last year, I got to help hand out the tickets to people in the line before the store opened. I really liked doing that, and I plan to do it again this year," Ben said. "It's really fun to see people excited for all the new products."
You can check out all of Best Buy's Black Friday deals by clicking here.