About 100 Blue Shirts and Geek Squad Agents arrived at Best Buy Store 344 in Paramus, New Jersey, just after dawn on Saturday morning. The first customer wouldn't show for another three hours, but the employees were energized and ready to rehearse for some of the busiest shopping days of the year.
The Paramus store was just one of approximately 1,000 U.S. Best Buy locations holding a "dry run" to ensure a safe and organized experience for customers and employees shopping on Thanksgiving and Black Friday.
"We spend countless hours preparing for this," Marcel Gomez, the store's general manager, told his team. "I want you to feel like it was smooth. I want you to feel like it was easy. That's how we know we did our job."
That preparation includes store employees going over their game plan for the busy week ahead. They review the top doorbuster deals, go over their schedules, and outline everyone's roles and responsibilities. They even pretend to be customers to simulate the long lines they'll see.
Over the years, Best Buy has implemented a variety of safety and crowd-control policies for Thanksgiving and Black Friday. They include:
A formal ticketing and line process that begins about two hours before the doors open on Thursday to keep things fair and orderly when everyone enters the store. A ticket is required to buy a doorbuster item, and there are only as many tickets distributed as there are items available, so there's no need for customers to sprint to departments and fight over products. We also stagger the number of customers we let in at a time to keep things calm.
The distribution of store maps to customers while they're waiting outside and the use of taped pathways on the floors to guide shoppers to specific departments and checkout lines.
The use of Best Buy security teams and partnerships with local law enforcement agencies as appropriate to manage lines and crowds of enthusiastic shoppers.
"I get compliments from customers that we exceeded their expectations because of how smooth and easy our Black Friday experience is," said Kathy Coger, the general manager at Store 351 in Fayetteville, Arkansas. "Last year, I remember getting 30 compliments at the end of Black Friday."
Practice is appreciated
A chance to rehearse is especially helpful for new employees like T.J. Jones, a recently hired Blue Shirt at Store 1452 in Sarasota, Florida.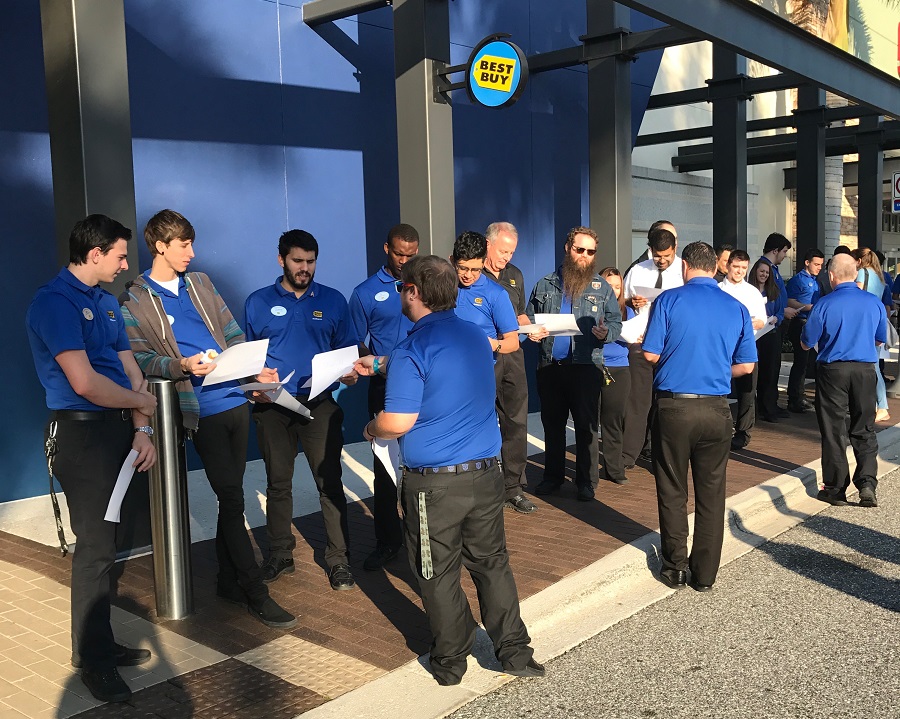 "At first I was nervous and didn't know what to expect. But I'm more excited after the training," he said. "I'm confident in the plan our store leadership has set up, and I'm excited to meet new people and help them get what they want to make their holidays a success."
The training session also proved valuable for the employees at Store 340 in Mobile, Alabama, which moved to a new location early this year. The store setup there will be different for everyone, even the most seasoned Black Friday veterans.
The store's leaders stayed late one night to plan out the best routes for lines. Saturday's dry run was their chance to relay the information to the rest of the team and answer any questions.
"With this being the first holiday here, we're going to have to be agile and flip the script if we need to," General Manager Tripp Sullivan said. "We're looking forward to getting customer feedback."
With nearly three in five Americans — an estimated 137.4 million people — planning to shop (or at least considering it) during Thanksgiving weekend, it's an exciting time for Best Buy customers and employees alike.
"It's going to be the most fun you'll ever have in a Best Buy store," said James Robinson, general manager at Store 217 in Aurora, Colorado.
Visit BestBuy.com to see our Black Friday ad and store hours.