While technology can do a lot for the world, it's the people who make all the difference. Yet, for too long, some people have been left out of opportunities, jobs, equity and expression simply because of who they are.
At Best Buy, we believe technology can help give more people a voice. It can level the playing field and take creativity to new heights.
That's the inspiration behind our new "More of this" marketing campaign, which kicks off this month. Focused on supporting inclusion and diversity, the mantra refers to giving more access, representation and recognition to more people.
"We want to use our voice to influence positive change," said Amelia Hardy, Best Buy's vice president of inclusion and diversity.
"More of this" is part of Best Buy's broader inclusion and diversity efforts, which aim to make changes throughout our company and in our communities. While the launch aligns with Black History Month, the campaign will also be used to celebrate Women's History Month, Pride, Latinx Heritage Month and other moments throughout the year that highlight inclusivity.
"As a brand, it's important that we do the things we say we're going to do," Chief Marketing Officer Frank Crowson said. "We want the 'More of this' platform to be a call to action to our customers, communities and ourselves to do better."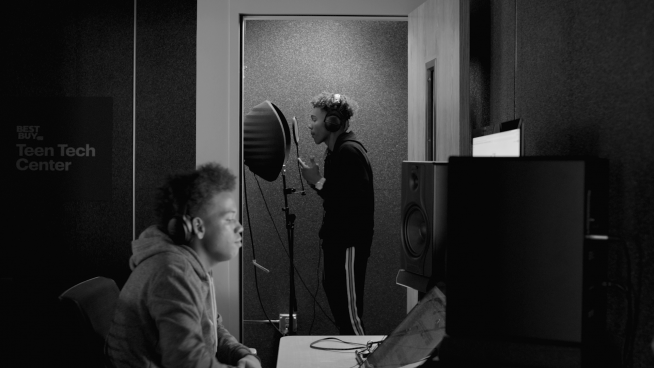 More Black history
We know Black lives are essential to achieve the brightest future imaginable — one where the possibilities of tech are available for all. Throughout Black History Month, we will be celebrating past and present moments in which access to technology played an important role.
Our "More of this" anthem video starts with historical events, like the civil rights movement, and concludes with modern day developments that we see in education, entertainment and business.
More Black future
We believe the best way to pave the way for more diverse people in tech is by helping create more opportunities and ushering in leadership that reflects all walks of life. That's why we recently announced a five-year plan to enhance our inclusion, diversity and community efforts.
The plan includes a series of commitments related to hiring Black, Indigenous and people of color (BIPOC) and women employees, and creating more opportunities and postsecondary support for youth and emerging talent.
Our goals include:
Filling one out of three new hourly corporate positions with BIPOC employees (specifically Black, Latinx and Indigenous).
Transforming our senior leadership ranks to be more in line with our board of directors.
Reaching 30,000 teens annually from disinvested communities across the nation, including building a network of at least 100 Best Buy Teen Tech Centers to teach skills and build a talent pipeline for a modern economy.
Provide $44 million to expand college prep and career opportunities for BIPOC students, including adding 16 scholarships for students at Historically Black Colleges and Universities.
Click here to explore available careers at Best Buy. To learn more about how Best Buy is supporting the local communities we serve, click here.