We just released our Black Friday ad, but you don't need to wait to get started on your holiday shopping.
Hundreds of deals straight from the ad are available on BestBuy.com and in stores, now through Nov. 1. And we're making it easier and more convenient than ever to safely get your order.
Here's everything you need to know.
What are this year's hottest deals? And when do they start?
This year's ad is packed with thousands of deals on the season's hottest tech, including TVs, headphones, laptops and video games.
Hundreds of those deals are available right now, including:
Save $150 on a Lenovo Core i3 laptop (sale price: $299)
Save $250 on a Lenovo Yoga Core i5 laptop (sale price: $549)
Save $200 on an Asus gaming laptop (sale price: $799)
Save $220 on a Samsung 70-inch 4K Smart TV (sale price: $529)
Save $250 on a Hisense 65-inch 4K Smart TV (sale price: $249)
Save $70 on an Insignia 32-inch Smart Fire TV Edition HD TV (sale price: $99)
$999 for a Canon EOS RP Mirrorless Camera with RF24-105MM, plus a free 12-inch tabletop ring light
Save $300 on a KitchenAid Pro5 Plus Series stand mixer in Ink Blue (sale price: $199)
Save $150 on Dyson Cyclone V10 Animal Pro Cordless Stick Vacuum (sale price: $399)
Save up to $750 on Samsung GS20 5G family of mobile phones
Save $100 on a Bose QC35 headphones (sale price: $199)
Save 50% on GreatCall devices, including the Jitterbug Smart 2 and the Lively Flip smartphone
When will Best Buy stores open for Black Friday shopping?
All our Best Buy stores will be closed on Thanksgiving this year. But don't worry, we'll still have thousands of deals available on BestBuy.com that day and in stores and online throughout Black Friday weekend.
Here's a quick look at our store hours:
Thanksgiving, Nov. 26: Closed
Black Friday, Nov. 27: 5 a.m. to 10 p.m. local time
Saturday, Nov 28: 9 a.m. to 10 p.m. local time
Sunday, Nov. 29: 10 a.m. to 8 p.m. local time
We've also extended our holiday hours in our stores to accommodate shoppers this holiday season, so our doors are now open from 10 a.m. to 8 p.m. local time.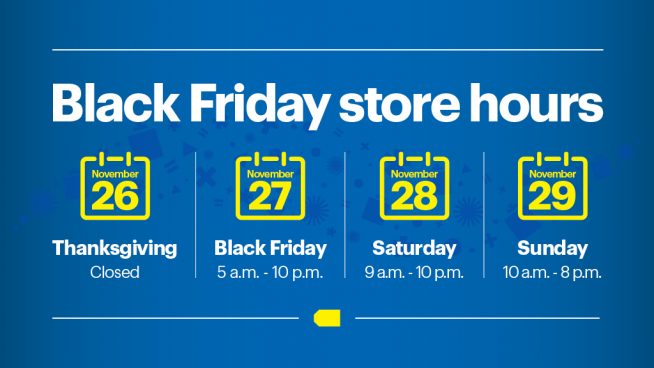 Will there be other chances to save between now and Black Friday?
Yes! Black Friday isn't just one day this year — it's months long. So, you'll have more opportunities than ever to shop early and score Black Friday deals this season. To see which deals are available today, visit BestBuy.com.
Here are a few days to mark on your calendar:
Nov. 5-8: The Wish List Sale
Nov. 11: The Treat Yourself Sale
Nov. 12-15: Our Coolest Deals Sale
Nov. 16-17: My Best Buy Member Early Access Sale – Thousands of deals from the Black Friday ad available early, for My Best Buy Members only.
Nov. 22: Black Friday Starts Now! – Nearly all Black Friday deals become available.
What is Best Buy doing to make sure Black Friday shopping is safe?
Nothing is more important to us than the safety of our customers and employees — and that's especially true this holiday season and on Black Friday.
Here are some of the steps we've taken:
Customers and employees are required to wear face coverings. If you don't have one, we'll provide one for you.
We've added a dedicated customer experience host at the front of every store to help guide you where to go, answer questions and manage any lines.
We'll continue to limit the number of customers allowed inside our stores at a given time throughout the holiday season. And our stores will follow all local guidelines.
We've placed stickers on the floor, as well as outside our stores, to help encourage social distancing. And if you need help from a Blue Shirt, you'll be placed in a digital que while you wait.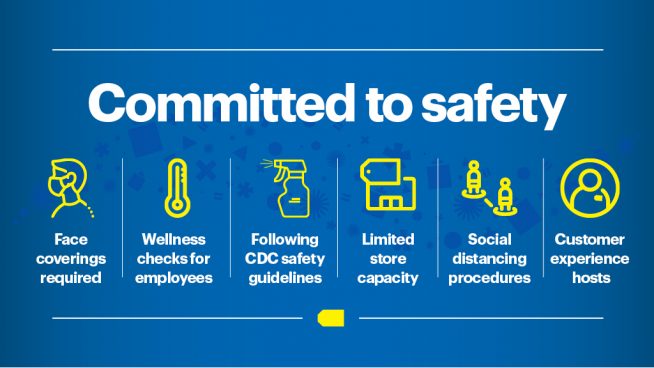 What's the best way to get my tech this year?
That's up to you! We're providing more ways than ever to get your tech this holiday season, so you can choose one that's safe and convenient for you.
Here are a few options:
Contactless curbside pickup is now available at all Best Buy stores. Your order will be ready within an hour, and we'll safely and quickly bring it out to your car. (Click here to learn more about how it works.)
Store pickup is another fast, easy option if you want to shop online and pick it up at a nearby Best Buy store. Orders are ready within an hour.
We've expanded our same-day delivery options, and almost all Best Buy stores now offer this option on thousands of products. If you order by 1 p.m. local time, you'll get your order by 9 p.m.
As always, you can get free next-day delivery on thousands of items from BestBuy.com.
You can pick up your order at one of more than 16,000 alternate locations, including UPS and CVS stores. (More than 80% of the U.S. population lives within 5 miles of at least one of these locations.)
Throughout the entire holiday season, we have thousands of sales employees available to help with your online shopping needs through our digital voice or chat options.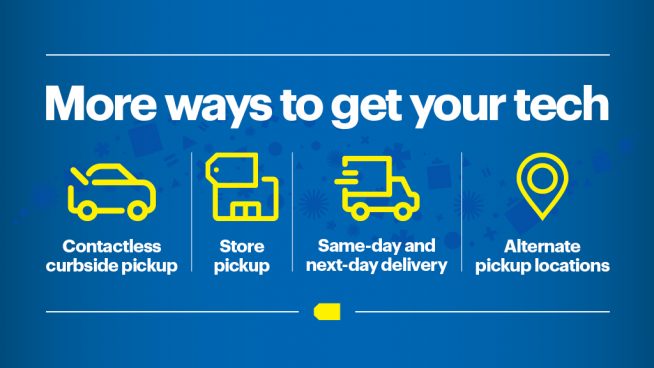 ---
For more details on our Black Friday deals, click here. For more information on how you can shop safely this season, visit BestBuy.com/ShopConfidently.