From Moms, to Dads, to your new grads — here are six gifting winners for each category.
For Moms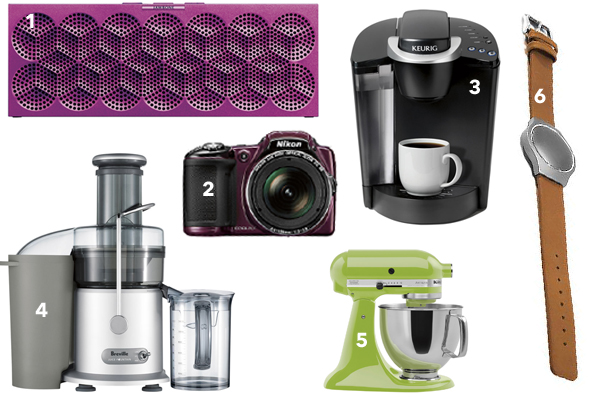 Whether hanging out with friends or relaxing before bed, the Snowflake Mini Jambox (1) is a must for moms who want to have their favorite tunes handy at all times.
We all know moms love capturing family moments – from vacations to graduations – so why not hook her up with the Nikon Coolpix (2) this Mother's Day.  If she's a coffee (or iced tea, hot chocolate or apple cider) lover, the Keurig (3) is the gift that keeps on giving. For the health nut in your life, the Breville Electric Juicer (4) is a great gift the whole family can enjoy.
Your mom is the best baker in world? The KitchenAid Mixer (5) offers the perfect pop of color to inspire culinary masterpieces. So your mom is practical and "doesn't need anything" this year? If your mom is a health nut, the Misfit Shine (6) activity monitor is perfect as it fuses fashion and functionality.
For Dads
For the dad who is the life of the party, the Rocketfish™ – Indoor/Outdoor Speaker (1) is the perfect way for him to enjoy his favorite tunes while grilling in the backyard. If dad prefers jamming out on his own, the Beats Headphones (2) will be a great fit.
Both fun and practical, the Nespresso Espresso Maker/Coffeemaker (3) will allow your dad to enjoy quality coffee without leaving the comfort of his home. If coffee isn't his cup of tea, but he can't live without his pop, the SodaStream (4) will really hit the spot.
Looking for something more practical than coffee? Have no fear – we're sure he'll use the Norelco – Electric Razor (5) regularly. If your dad is a fun-loving adventurer and home movies were a staple in your household growing up – the GoPro – Hero3+ Camera (6) will be a homerun.
For Grads
With summer right around the corner, fashion is a priority for grads gearing up for college or prepping for their new job, but in such a fast-pace environment gifts must be cool and practical – the HTC One M8 Smartphone (1) is both. Keeping up with the newest hairstyles is equally important so the CHI Flat Iron (2) is a must.
If your grad needs some downtime after the final semester, they will be delighted to receive the Sony PlayStation4 (3). Whether out with friends or running errands after work, the mophie Charging Case (4) allows grads to stay connected when on the go. Space is always an issue for recent grads so the Frigidaire compact refrigerator (5) will allow grads to stock up on their favorite snacks and beverages without overcrowding their dorm or apartment.
For grads and college students alike the Hamilton Beach – Set & Forget Slow Cooker (6) will get plenty of use because it's easy, but still makes great food.
For all three
For the health conscious people on your list, the JayBird Earbud Headphones (1) are wireless and great for daily workouts. The headphones are awesome, but if they're more interested in tracking their progress, the Samsung Gear Fit Fitness Watch (2) is exactly what they need.
If the day-to-day shuffle is enough of a workout for your mom, dad or grad, the Google Chromecast (3) is the perfect excuse to relax with the family and enjoy your favorite television shows together. While lounging and catching up on "Game of Thrones", the whole family will be thankful you got the Retro Kettle Popcorn Maker(4).
Most people have a great smartphone (or plan to snag a new one this year) but the trick is keeping it safe – that's why the ZAGG Glass Screen Protector (5) is a smartphone's best friend. If your giftee is especially accident-prone, we recommend the LifeProof (6) – the ultimate stronghold for their smartphone.