We've been preparing for months. Now, it's finally here — the biggest shopping weekend of the year.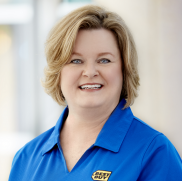 Nearly 30 percent of consumers plan to start their holiday shopping over Thanksgiving weekend. And we have more than 1,000 Best Buy stores nationwide that are ready for the rush.
It all starts Thursday, when most Best Buy stores will open at 5 p.m. local time. Thousands of deals, including the hottest doorbuster deals, will be available online and in stores Thanksgiving Day, Black Friday and into the weekend.
We chatted with Paula Baker, Best Buy's president of U.S. retail stores, to learn more about how our locations get ready for the busy holiday season.
How have our stores and employees been preparing for this week and the rest of the holiday season?
Our retail teams started preparing in September by looking at our staffing needs. Then we officially kicked off the holiday season at our Holiday Leadership Meeting in early October, when we brought all of our general managers to one place to walk through our plans. They went back and shared all of that training and communication with their teams. Now it's just about executing the plan.
How much training do individual employees receive to get ready?
Our Blue Shirts get a lot of training throughout the year, so they have the product knowledge and selling skills to create a great experience for customers. Our seasonal employees, who are new to the company, get roughly 20 hours of individual training. We keep them focused on the specific department where they're going to work, whether that's computing, smart home, appliances or gaming. They'll learn about that one particular area so they're very proficient.
Looking ahead to Thanksgiving evening and Black Friday, how does Best Buy make sure it's a fun, safe shopping experience for customers?
We've learned a lot over the years about how to do this really well. It starts with a lot of planning on the part of the general managers at every store. It's all very localized. We draw lines on the floor, and most stores give customers color-coded maps to help them navigate the different departments.
We also have a ticketing process for the hottest, latest, greatest products. If you've been standing in line for hours or days, you deserve to get what you came for. We have a very structured way for our customers to get those ticketed items so they don't have to worry about whether the product will be available when they get inside.
So it's not a mad rush when the doors open?
It's not a free-for-all. It is absolutely, 100 percent orchestrated and organized. We figured it out a long time ago, and we keep refining it every year. It keeps getting better and better.
What sets Best Buy apart this time of year?
First off, the in-store product selection is second to none. You can come to Best Buy and see, touch, feel, and buy all the hottest, latest and greatest technology. But our employees — with their knowledge, confidence and experience — are what set us apart. They are so excited to show you that technology and what it can do for you that you have no choice but to have fun.
So Best Buy employees can help shoppers find that perfect gift?
Absolutely, all day long. That's what's fun about the job. We have some customers who come in and say, 'I know I want something in smart home,' and it's the employee's job to learn about the person they're buying for and make recommendations. Other customers come in with a list of all the things they need to buy for their loved ones, but they might not know much about those products. We have an opportunity to show them what they're looking for and talk to them about all that's possible. We can help them create an experience for the gift recipient that they're not going to get anyplace but at Best Buy.
This is your 13th holiday season at Best Buy. What's your favorite part?
I love the anticipation. It takes a lot of hard work, heavy lifting and long hours to prepare, but there's something very satisfying about watching it all come together. And we've gotten really good at it. So when we open the doors Thanksgiving night and customers enter our stores, the experience is great and our employees are engaged and excited. There's not much better than that.
Click here for more information about our Black Friday weekend deals and store hours.