It's time to cue up the carols and get out those twinkle lights! The holidays are here, and whether you're shopping in a store, on BestBuy.com or through our app, we're here to help make shopping at Best Buy easier than ever. All while bringing you tons of great savings throughout the season.
Holiday calendar at a glance
This year, we're bringing shoppers good tidings and great prices, with plenty of chances to score Black Friday dealsi before the main event in November.
Starting today, Oct. 10, and running through the end of December, we're hosting Member Mondays almost every week. That means Best Buy Totaltech™ and My Best Buy® members will have exclusive access to some of our hottest deals of the season. Plus, on select Mondays, Totaltech members will have exclusive access to some hard-to-find holiday gifts.
As a reminder, Totaltech members have access to exclusive deals every day, all year long and My Best Buy members will have opportunities to score exclusive deals throughout the holiday season.
Starting tomorrow, Oct. 11, we're hosting a 48-hour Flash Sale, with hundreds of deals on your favorite tech, like TVs, headphones, smartphones and more. Here's a sneak peek:
Save up to $600 on select Windows laptops
Save $150 on MacBook Air laptops with Apple M2 chip, plus more great deals on Apple products
$999.99 for Sony 55-inch OLED 4K Smart Google TV (Save $900)
$269 for Bose 700 Wireless Noise Cancelling Over-the-Ear Headphones (Save $110)
$149.99 for Beats Studio³ Wireless Noise Cancelling Headphones (Save $200)
$69.99 for Amazon Echo Show 8 (Save $60)
For a full rundown of the holiday fun we have planned, check out this handy overview below and mark your calendars.
How to get your gifts
As always, we have tons of ways for you to get your orders from Best Buy.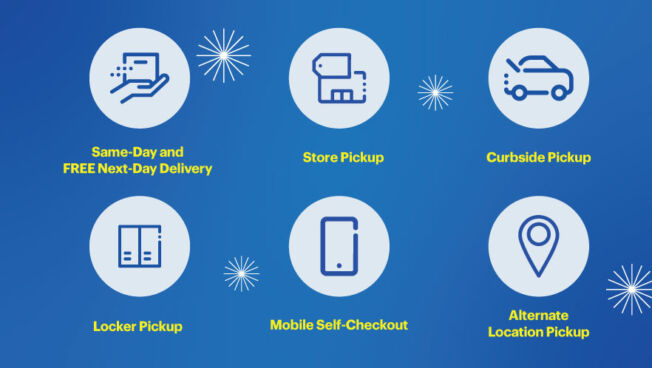 And for added peace of mind while you're shopping, we're extending our return policy. Any gifts purchased Oct. 24 through Dec. 31 can be returned through Jan. 14.
Shopping in our stores
We're extending our store hours to help our shoppers this holiday season. Starting Oct. 30, our stores will be open from 10 a.m. to 9 p.m. Monday through Saturday and 10 a.m. to 8 p.m. Sunday.ii
Our stores will be closed on Thanksgiving, but customers can still shop big savings on BestBuy.com or through the Best Buy app.
Hiring for the holidays
This year, we kicked off our holiday hiring in August by hosting job fairs in various cities across the country. Currently, we're still in the process of hiring thousands of seasonal employees to join our teams in stores and distribution centers.
Over the last three years, we've increased our average wage rate more than 20% by raising our starting wage to $15/hour, and we also shifted some of the employees into higher skilled and higher paying roles. In fact, the average hourly wage is more than $18/hour this year.
If you or someone you know might be interested in working at Best Buy, you can find more information on our careers website.
Easy holiday gifting
Not sure where to start with gifts? Our experts are here to help you find that perfect something for the trickiest and pickiest gift recipients. With a refreshed Gift Center coming on Oct. 11 at BestBuy.com/giftideas, we have curated gift lists with inspiration for all, from family members to foodies, and content creators to gamers.
And for the young — and young at heart — our new digital toy guide is a delight! Browse the latest must-have items or use the toy finder for inspiration.
Bringing back Thanks and Giving®
Starting Sunday, Oct. 16, we kick off our 10th holiday season joining St. Jude Children's Research Hospital® in the fight against childhood cancer and other life-threatening diseases. Best Buy is the largest corporate partner in the history of the St. Jude Thanks and Giving® campaign, having collected more than $165 million in donations over the years thanks to our generous customers and employees. We accept contributions in stores, on BestBuy.com and in many other ways.
To keep up with the latest Best Buy news throughout the holiday season, click here.