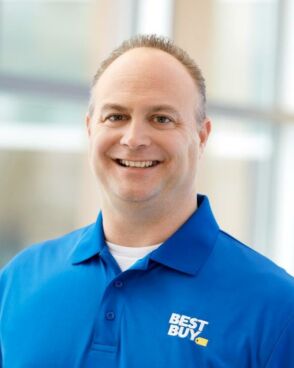 Ray Sliva is the chief people officer for Best Buy Co. Inc. In this role, he is responsible for ensuring a broad range of new and existing employee engagement initiatives result in meaningful, positive change for our team members. This includes leading the company's employee promise work end-to-end.
Ray stepped into this role after rising to the top levels of the company's retail organization. Most recently, he served as the company's president of retail where he was responsible for U.S. sales across all customer touch points by delivering seamless customer interactions in our stores and in customers' homes. Ray oversaw our in-home consultation team, Best Buy for Business, digital sales and the company's nearly 1,000 stores. Before that, he served as senior vice president of retail operations.
Ray joined Best Buy in 1999 as a district human resources manager in Chicago and went on to serve as general manager at three stores in the area. He became district manager in 2005 and joined the territory staff a year later. He was promoted to vice president and territory general manager in 2009, overseeing 200 stores and 15,000 employees in the Midwest and Mid-Atlantic regions.
Ray received his bachelor's degree in human resource management from DePaul University. He serves on the boards of the GRAMMY Foundation, Best Buy Foundation and Best Buy PAC.