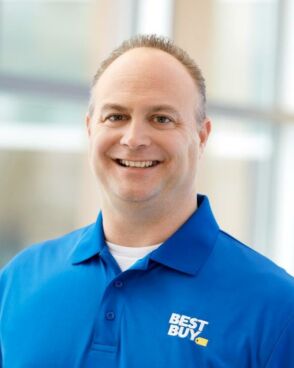 Ray Sliva is the president of retail for Best Buy Co. Inc. In this role, he is responsible for U.S. sales across all customer touch points by delivering seamless customer interactions in our stores and in customers' homes.
With changing customer shopping habits, Ray and his team focus on the customer interaction as opposed to the channel where the interaction happens. Thus, Ray oversees our in-home consultation team, Best Buy for Business, digital sales and the the company's nearly 1,000 stores.
Ray previously served as the company's senior vice president of retail operations. He worked closely with the merchandising, marketing and fulfillment teams to bring our Building the New Blue growth strategy to life in our stores. He also acted as the conduit between the field and corporate, with a focus on enhancing customer and employee experiences by streamlining our processes and eliminating pain points. He is responsible for all operations related to front-lane checkout, store merchandising, store warehouse, ship from store, inventory management, asset protection and labor management.
Ray joined Best Buy in 1999 as a district human resources manager in Chicago and went on to serve as general manager at three stores in the area. He became district manager in 2005 and joined the territory staff a year later. He was promoted to vice president and territory general manager in 2009, overseeing 200 stores and 15,000 employees in the Midwest and Mid-Atlantic regions.
Ray received his bachelor's degree in human resource management from DePaul University. He serves on the boards of the GRAMMY Foundation, Best Buy Foundation and Best Buy PAC, and he formerly was on the board of the Academy of Country Music. He also leads Best Buy's partnership with St. Jude Children's Hospital, which has raised more than $125 million to help end childhood cancer.