When Jamie Siminoff built his first video doorbell in 2011, he had no idea it would someday become one of the hottest products in the fast-growing world of smart home technology.
Jamie is the founder and CEO of Ring, which makes video doorbells that let you answer the door from your smartphone and get alerts when anyone rings your doorbell or triggers the built-in motion sensors. The company also makes motion-activated security cameras with built-in floodlights, two-way audio and a siren alarm.
The business started in his garage, and now Ring's products are on homes across America. They help create peace of mind and, important to Siminoff, safer neighborhoods.
Jamie sat down to chat with the Best Buy Blog while visiting Best Buy's headquarters on Thursday.
How'd you come up with the idea for Ring?
I was in my garage inventing a modular gardening system, and I couldn't hear the doorbell from my house. None of the wireless doorbells on the market worked far enough to reach the garage, so I looked for a Wi-Fi doorbell online. None existed. So I decided to build my own. When my wife said it gave her a sense of security, that's when I realized it was more than just a hack for my home.
When did you know it was going to be a commercial success?
It took almost two years. We did a presale in December 2012, and the customer feedback from that was the final breaking point that this wasn't just something we could do on the side. We've gone from my garage to having 1,200 team members, and the impact it's having for customers and neighborhoods is unbelievable.
Why do people buy Ring? Is it primarily for security?
If they just see it at a store or see an advertisement, I think security is the big driver. When they've experienced it through a friend or family member, that's when the other stuff comes out. People will show their family how they can see when their kids get home from school or check on their house when they're on vacation. People are buying it to feel that emotional connection to their homes. With Ring, you're always home.
Does Ring actually help prevent crime?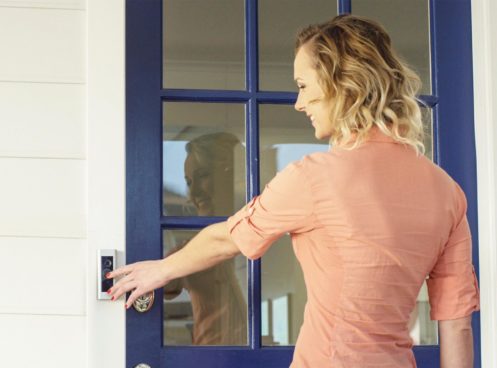 Our mission is to reduce crime in neighborhoods around the world. We're probably seeing about one person a day arrested because of Ring, and I wouldn't be surprised if we've actually impacted burglary rates in the country now. We have enough Rings out there, and I know we're affecting rates in certain neighborhoods by double-digits. To me, that's our key performance indicator. When you start to make neighborhoods safer, people grow up in better environments. That's what gets us most excited as a company.
What type of feedback do you get from customers? What do you hear the most?
My email is on every box, and I love all of the feedback. It's great to get that unfiltered feedback so you can fix any problems and make sure the customer experience is great. I also like hearing about how people are using our products because there are always nuances. That has helped us create accessories, such as angle brackets and indoor chimes, which are big sellers for us. And there are all of the product ideas people send me. I'd say a lot of them aren't necessarily great or don't fit our mission, or they're things we're already working on. But you start to see patterns and trends.
What are the craziest things you see on customer videos?
Some of the coolest ones are animals, like bears in Alaska. And Halloween is incredible. It's our Black Friday. The number of doorbell dings — it's not like double the normal traffic, it's more like 30 times the traffic.
Do people even ring doorbells anymore?
You'd be surprised. When we first came out, people would say, "Why does it matter? No one comes to my door anyway." The truth is people actually do come to your door, but you're not home, so you don't know. When you have a Ring, you realize people actually ring your doorbell all the time.
S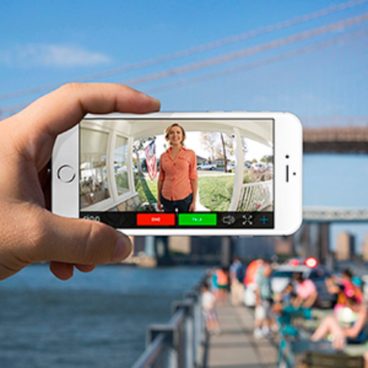 mart home is a rapidly growing category, but it's very fragmented. How do you see Ring fitting into that space?
What I like about Best Buy's smart home experience is that a customer can come into the store and slowly build their solutions based on their needs. If they're worried about security, maybe they buy a couple of Ring products. If they want music, they can get some Sonos things. Best Buy does a great job of making sure the customer doesn't feel like they have to buy into one platform and be locked into it.
Where do you see the smart home category going?
It's always easy to look back and see when we crossed over on certain technologies. It's harder to see it when you're in it. But I just can't imagine that every home won't have a smart doorbell in five or 10 years. I can't imagine that every home won't have smart lighting or smart audio. Right now, it's still a sub-category inside a store, but I would think it will become as big as TVs and some other sections in terms of both sales and impact.
Where do you see Ring going? What's next?
Our company's all about reducing crime in neighborhoods, and we'll continue to add new products around that. We're still young and new enough that we're coming out with a pretty fast cadence of new products. What will change over time is that, instead of coming out with new products, we'll start to update products. For example, we just released a completely redesigned version of the Ring Video Doorbell Classic that originally came out in October 2014.
Click here to learn more about the Ring products available at Best Buy.