Matt Polski is taking advantage of all this time at home by mixing some catchy quarantine-inspired jingles.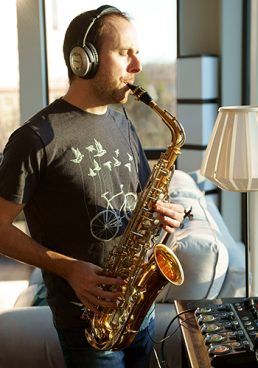 Creativity comes naturally for Matt, who works in marketing at Best Buy. So far, his song catalog includes "Does anybody know what day it is?" and "What do you do when you're quarantined?"
"There are people going through really nasty situations right now. They're losing jobs, health, family members and friends," he said. "Hopefully these songs can give people a brief escape from external stressors."
Like Matt, many of us are spending more time in the house, so it's the perfect chance to pick up a new hobby or dust off an old one.
His advice? Just dive in.
"You've got to put time in if you want to be good at something," he said. "But at the same time, don't beat yourself up over it if you're not perfect right away. Give yourself grace."
Here are a few ideas to help nurture your creativity.
Start a podcast
With more than 800,000 podcasts out there, on topics from cooking to true crime, why not add your voice to the cacophony? Everyone's an expert, and now is the perfect time to share your ideas with the world.
You don't need a high-tech studio to get started. You just need your voice, a microphone and a basic recording program. If you want to take it up a notch, add a digital audio mixer.
Be your own director
Many people are turning to fun and creative videos on social media to pass the time during self-quarantine. Who knows, yours might be the next one to go viral.
Whether you want to make a mini-doc or just make your friends laugh, it's easy to make your own videos with a smartphone or digital camera. Director's chair not included.
Master a language
Keep your mind sharp and get ready for your post-quarantine travels by learning a new language. Using software like Rosetta Stone, you might even be fluent by the time the stay-at-home orders are over.
If that's not your thing, consider diving into a digital language like coding or graphic design. You can even get your kids involved with STEM toys.
Become a click pro
We're living in a historic time. Pick up a camera and practice the art of documentary photography — or just sharpen your food photography skills.
This is also the perfect time to hone those time-consuming photo editing skills through software like Adobe Photoshop or Lightroom.
Not sure where to start? We have lots of tips and tricks online here.
Pick up a book
Whether you're flipping the pages of a novel or work of nonfiction, nothing fuels your creativity like reading.
With physical libraries and bookstores closed in many parts of the country, you can find the titles you're looking for on your e-reader or tablet. And, there are lots of ways to get free access to e-books and audiobooks.
Learn the art of the latte
Missing the sounds and smells of your local coffee shop? Get your caffeine fix and nurture your creativity by learning to be your own barista. Make your own lattes, complete with latte art.
We have a wide variety of espresso machines to help get you started. Just add milk.
Escape to another world
Video games are a fun way to pass the time while social distancing. You can even use them as a way to connect with friends through online gaming.
One of the hottest titles right now is Animal Crossing: New Horizons, which millions of people have already purchased since it launched at the end of March. There's a pleasant escapism to the game, psychologists say. Some have even called it meditative.
But you don't have to simulate island life to reap the creative benefits of gaming. Dust off an old-school console and reconnect with the favorite games of your youth.
Click here to shop for products that nurture your creativity.