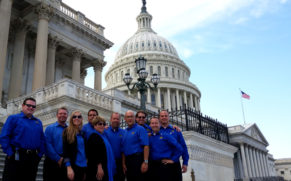 As the world's largest consumer electronics retailer and a leading corporate citizen, Best Buy believes it is important to work with policymakers on issues impacting our customers, employees, businesses, shareholders and communities. We know that collaboration helps bring about change that better serves the communities where we live and work. Our public policy work directly aligns with our business strategy, as well as our aspiration to be environmentally and socially accountable for our brands and business operations worldwide.
2016 Public Policy Priorities
E-fairness – Best Buy supports passage of e-fairness legislation, which would allow all retailers to compete on a level playing field while serving customers across all selling channels.
Financial Services – Access for consumers to affordable credit is critical to our customers and the growth of our business. Best Buy supports policies aimed at protecting critical credit offerings for consumers and reducing credit and debit card interchange fees.
Cybersecurity and Data Privacy – Customer and employee privacy and data security are essential to our customers, employees and the growth of our business. Best Buy is committed to safeguarding customer data and also ensuring a relationship with our customers that better understands and serves their needs and interests.
Competitive Workplace – Best Buy supports policies that enable the company to attract and retain the best talent by offering competitive wages and benefits.
Supply Chain – Best Buy supports policies that improve and maintain the nation's multi-modal infrastructure to help advance the free flow of trade while promoting a safe and secure supply chain.
Energy & Environment –Best Buy supports policies that promote the responsible recycling of electronic waste, address growing concerns related to climate change, and encourage energy efficiency in design and sale of products.
Emerging Technologies – Best Buy supports policies that allow for the emergence of new technologies that improve customers' lives.