Tony Dandy has been living in temporary housing in Panama City Beach, Florida, for almost two months after his house was damaged by the winds and rain of Hurricane Michael. And he probably won't be able to move home for a few more weeks.
But, despite his own hardship, the Best Buy supervisor has been volunteering several times a week to help others in the community. And dozens of employees from our Best Buy store in Panama City have joined him to assist with the recovery efforts.
"Our whole team has been there, helping volunteer," Tony said. "We've had 18 to 25 people show up for the volunteer events every day."
They first partnered with the American Red Cross and Operation BBQ Relief to prepare and distribute meals, then connected with a local church that paired them with area residents in need. They've handed out supplies, cleared debris from people's yards and helped people move.
They also helped nearby Deer Point Elementary School reinstall hundreds of computers when it was preparing to reopen.
"We've literally done a little bit of everything," Tony said.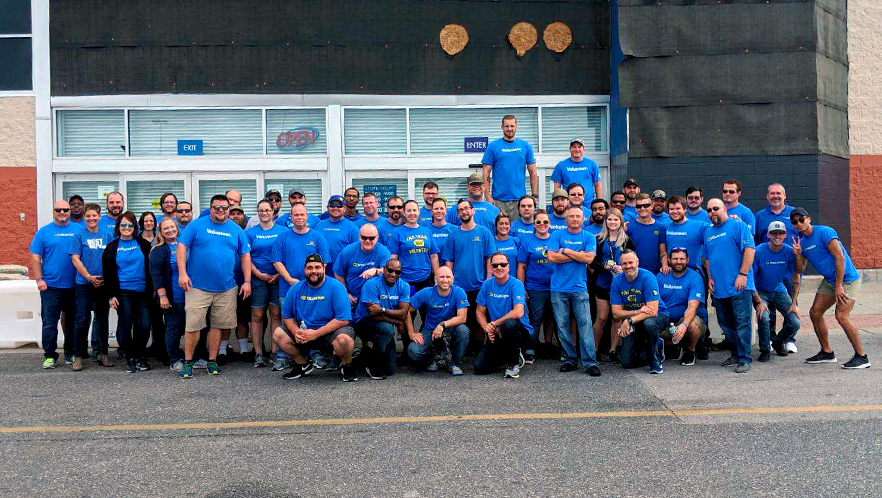 'It's bringing everyone together'
Hurricane Michael made landfall on the Florida Panhandle on Oct. 10 with winds of 155 miles per hour, making it the strongest storm to hit the continental U.S. since 2004. It left behind an estimated $4 billion in damage, destroying about 60 percent of the homes in Panama City alone.
Best Buy and its employees in the area were among those affected. Our store in Panama City remains closed after sustaining major damage, and many employees were displaced by damage to their homes.
That hasn't stopped Tony and the rest of the team from coming to the aid of others, though.
"If people are hurting and I'm able to help, I want to help," Tony said. "Everyone who has come to these volunteer events could have easily just stayed home and worked on their own homes and yards, but at Best Buy we're like a family. So, we've worked hard to get out there and see who has a need and what we can do to help."
In recent weeks, things have been getting a little bit back to normal. Tony and some of his co-workers have started bussing to our Best Buy store in Destin, Florida, to help during the busy holiday season. We expect our Panama City store to reopen in the coming weeks, in time to help customers with their last-minute gift buying.
Meanwhile, employees are still finding time to volunteer — and there's still a lot of work to do.
"You just have to take it day by day and work at it," Tony said. "The more everybody pitches in, the more that gets done. It's bringing everyone together."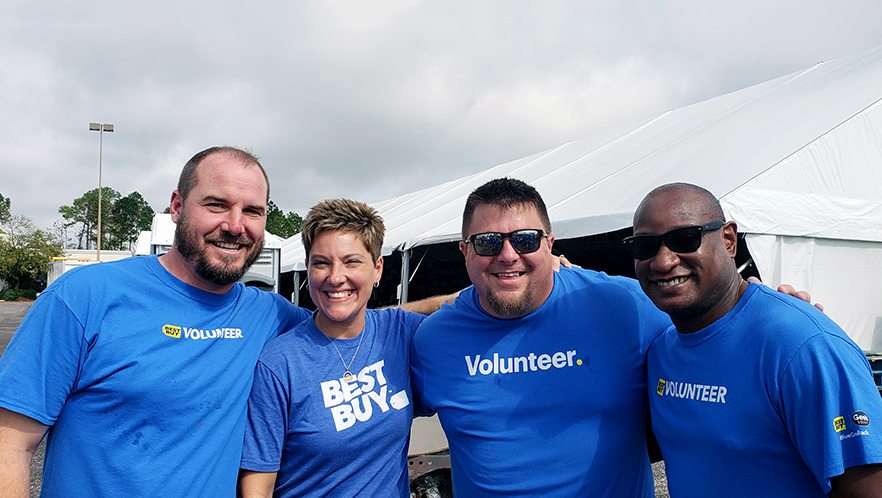 Happy to help others
The efforts of our Panama City employees caught the attention of company leaders, some of whom went to Florida in November to check on the team and volunteer alongside them.
"The most heartwarming piece was meeting the employees because of their positive attitudes and the way they cared for one another and the community," said Melanie Cornell, vice president of national sales. "Many of them have lost their homes or have family members who have lost their homes, but you didn't hear them dwell on that. They were just happy to help other people."
The employees in Panama City, meanwhile, said they have been similarly inspired by the support they've received from Best Buy and their colleagues across the country. The company has continued to pay employees who volunteer in the community, and employees are eligible to apply for financial support through the Richard M. Schulze Family Foundation Best Buy Employee Disaster Relief Fund.
"I've seen a really great company — from the corporate office to the district staff to part-time employees — come together as one to help each other," said John Vitale, an assistant manager at the Panama City store. "It's been a tough time for a lot of people. It's been nice to have a company and a team that's there for you, so you're not doing it alone."