Aniket Valand landed in New York City in 2013 with only one word in his English vocabulary: hi.
As a 17-year-old immigrant from India, Aniket didn't how to speak the language, but he did understand the notion of the American dream. Today, the Best Buy employee's own dream came true as he raised his right hand at a naturalization ceremony in Oklahoma City — nearly six years to the day since he first stepped on American soil.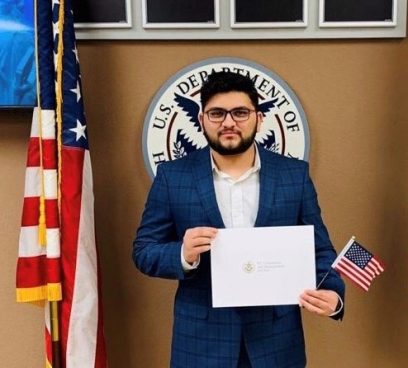 "When I was in India, I was dreaming about my future in the United States. I was looking forward to getting an education and building my career here," Aniket said. "I have been through some struggles, but those hard days have given me so much strength to surpass difficult times and made me who I am today."
Aniket's dedication to studying the 100 questions of the English-based citizenship test is a hallmark of the success he's also had in his role at Best Buy.
As a computer sales associate at the Best Buy store in southwest Tulsa, Oklahoma, Aniket has been with the company just 15 months. In that short time, he has quickly become a leader by working hard and earning the respect of teammates and customers.
"He's set the bar for everyone, especially considering he didn't come from a lot of retail experience," said Tanner Burkybile, the store's assistant sales manager. "He's earned respect because of his sheer hard work and desire to serve people. I've told him many times his hard work has inspired me to be a better leader."
An American journey
Aniket's journey to today began 19 years ago when his family first applied to come to the United States. After waiting 13 years for approval, he, his parents and his brother flew to America with the help of a family member who loaned them money for airfare.
During their 10-hour layover in New York, Aniket recalls going through an interview to get his Green Card, answering the questions as best he could with his limited knowledge of English. With a $5 bill in hand, he found a security guard who helped him get change so he could call a friend from India who was studying in New York. The friend came to the airport to visit with Aniket and his family before they continued to Oklahoma, where Aniket's aunt lived.
Aniket helped his aunt by doing odd jobs and, along the way, learned English and the American money system. On his New York friend's encouragement, even though he had already completed 12 years of schooling in India, Aniket enrolled in an Oklahoma high school as a 10th grader in 2015 so he could improve his language skills.
He went on to work in a department store selling ladies shoes during the day, and at the front desk of a hotel at night. He and his family lived together in a room at that same hotel for five years.
Building futures
Friends who knew that Aniket liked technology encouraged him to apply at Best Buy, and he found a second family at the store. His team shared Aniket's excitement over becoming a U.S. citizen, and they recently celebrated his achievement with patriotic-themed cupcakes.
"I like my teams, coworkers and managers — from my first day to right now, they support every step I take," he said. "I show them what I can do, I set my own goals and I want to be successful. The support my leaders give me is why I'm here. They motivate me in my life."
Aniket has also discovered that Best Buy is a place where he can help others realize their own dreams.
"I care about people. I don't just look at a device, but I look at what the device does for the person," he said. "At Best Buy, we build futures. For example, we don't just sell a computer. We help a person go to college."
Visit our careers site to learn more about working at Best Buy.