It's hard to regain normalcy during a pandemic. It's even harder after having to endure a natural disaster, too.
That's what Best Buy General Manager Alex Trufin is facing after a tornado flattened his Jonesboro, Arkansas, store in a matter of seconds while 17 employees and two customers sheltered inside.
"I've been there 13 years. That was like my home," Alex said. "I felt like we had built a dream team. The day before the tornado, we finished first in the company for sales."
But on the evening of March 28, the day of the tornado, sales were the last thing on his mind. Stores were facing a new reality amid the COVID-19 crisis, and he and Assistant Manager Tony Brodell were outside helping customers with contactless curbside pickup as the sky grew dark.
"At that point, Tony and I were on the exact same page," Alex said. "We wanted to keep everyone safe."
With a solid plan, quick thinking and strong leadership, that's just what they did.
Executing the plan
Alex and Tony started preparing for storms after hearing weather reports earlier in the day. They put a copy of the company's hazard-preparedness plan at the front desk and set out flashlights — just in case.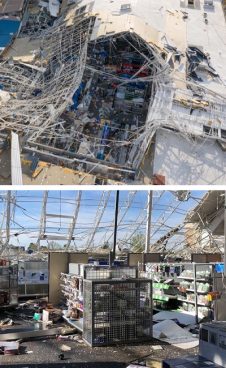 Around 5 p.m., Alex called his district manager to say he was closing the store for severe weather. At the same time, Tony told employees to shelter in the break room, the building's designated safe spot.
Less than 10 minutes later, the tornado sirens sounded. Tony went to close the exterior gate at the front doors when a customer, with his 6-year-old grandson in the car, pulled up in front of the store.
"I saw them, and then I saw the tornado heading straight toward us," Tony said. "We're still dealing with COVID-19 and not supposed to have contact, but I knew no matter what I was going to help these people."
Tony had the man and his grandson crawl under the almost-closed gate, grabbed an armful of flashlights and rushed the customers into a bathroom next to the break room.
"The power had gone out and the ceiling was shaking," Tony said. "The tornado was coming through the front door."
The next 30 seconds were loud and terrifying.
Tony just made it to his team when the building shook and ceiling tiles crumbled. He, Alex and another employee, named Dalton, tried to force the door closed.
"We were holding on for dear life," Alex said. "There was so much pressure that I was holding the door. Dalton was using his body weight to smoosh against me, and Tony was pushing his feet into Dalton."
Suddenly, it stopped.
"At first, all you could hear was people crying and screaming," Tony said. "Then everybody got really quiet as we got our first peek of the destruction."
Searching for a safe way out
Alex was tasked with finding a way out of the rubble after losing in rock-paper-scissors against Tony.
"I made my way through this maze of Whirlpool and Maytag driers," said Alex. "There were end caps and shelves blown everywhere."
Alex saw a big hole where the warehouse door used to be. As he got closer, he could hear rescue workers and started running toward them.
"I was yelling, 'Help me! There are people in here, and I need help getting them out!'" Alex said. "They told me I couldn't go back into the building, that it wasn't safe. But I just said, 'Let's go!' and started running back to my team."
One by one, survivors were lifted out of the rubble and led to the parking lot, with Alex and Tony being the last ones out.
The store was reduced to a pile of wood and metal scraps. Outside, the employees' cars were totaled.
"It was like a punch in the gut," Alex said. "I've spent nearly half my life in that store. But then, I realized something. Everyone survived. In fact, there were no injuries at all."
While in the parking lot, Tony walked over to the man he had pulled into the store and gave the grandson a high-five.
"Tony saved those two people. Period," Alex said. "Yes, we executed the Best Buy plan, and it worked. I'm really happy no one was hurt. But Tony went above and beyond for those customers, and I could not be prouder."