The students on the robotics team at the Best Buy Teen Tech Center at Family Service in San Antonio spend several hours a night working on their robot. His name is Antonio, and there's a powerful legacy that extends well beyond his mechanical parts.
The robot was named in memory of Antonio Torres, a longtime Best Buy general manager who died last September after a battle with COVID-19. It's a fitting tribute to a man who family, friends and colleagues fondly remember for his big smile and even bigger heart.
"Community involvement was one of the things he held near and dear to his heart," said Antonio's son, Tony, who also worked at Best Buy for 11 years. "It was his way of always trying to make a difference in someone else's life. My dad loved kids."
After Antonio's death, Best Buy donated $10,125 to the robotics team in honor of Antonio. That covered the cost of the robotics kit and additional parts, plus travel and competition costs, including tournament entry fees, lodging, meals and team apparel for all the students, coaches and mentors.
"That was huge for us," said Lalo Moreno, the coordinator at the Teen Tech Center. "We were able to purchase things that we didn't think we would be able to this season — things that were kind of on our wish list."
The team, known as the Teen Tech Titans, responded by dedicating its season to Antonio's memory. In addition to naming the robot after him, the students adorned it with gold angel wings. They also made a banner and t-shirts with his name on them.
"Every time we practice or compete in a match, it's like he's there looking over us," Lalo said. "It honestly feels like someone is here with us."
Embracing a new challenge
The San Antonio Teen Tech Center started the robotics team three years ago after Lalo found an unused robotics kit at the center. He did some research and signed up to start a new team as part of the FIRST Tech Challenge competitive robotics program.
Lalo then pitched the idea to the students, many of whom typically visited the center to work on graphic design, cinematography or gaming development.
"I pulled some kids together who always came to the center and were receptive to whatever I introduced to them," he said. "I knew they were bright kids and might have an interest in it. They'd just never been introduced to robotics before."
The team started small — just four students — but has since doubled in size. And the students have formed a close bond while working together to design, build and program the 18-cubic-inch robot.
"It's all about the people — my teammates and coaches, working together to problem-solve issues and mess around with technology. Every day brings a new challenge," said Joe Hernandez, a high school senior who is one of three original members who remains on the team today. "We would probably meet every single day of the week if we could."
The Teen Tech Titans have performed well for newcomers to competitive robotics. In the first season, they won a design award and made it to a wild card spot in the playoffs where they lost a heartbreaking match. Then, in year two, they qualified for the regional finals.
"They've built a strong reputation for themselves," Lalo said.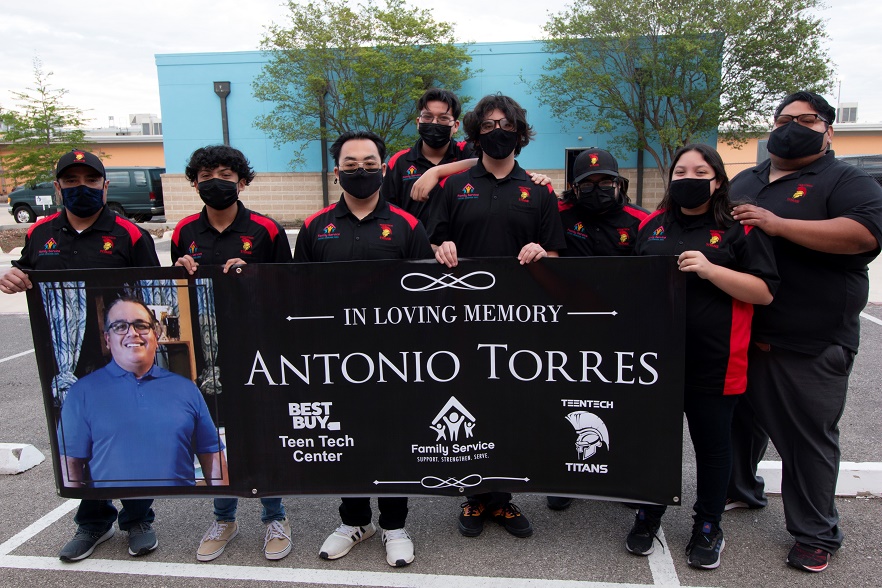 Honoring Antonio's memory
This year, the Teen Tech Titans have moved into a more competitive league. The team will participate in an all-day, end-of-season tournament later this month.
The students are hard at work preparing, often staying at the Teen Tech Center until 9 p.m. or 10 p.m. to make adjustments to Antonio the robot. They're programming him for this year's complex task of picking up foam rings off the ground and shooting them into various goals to score points.
"We meet every day of the week except Wednesdays. We've even had some weekend days," Joe said. "We try to put in as much time as possible on our bot to get it the best we can."
They look forward to showing off the results of that hard work at the tournament. And they're excited to have an opportunity to publicly honor Antonio's memory.
That means a lot to his family, too.
"It really humbles us, as his family, to know that his legacy carries on and has touched so many people," Tony said. "It's an overwhelming feeling of pride."