Did Mom lock the front door before going to bed? How has she been sleeping? Has she been staying active? Those and other questions had become more common for Britt Stanton, whose mom is 71.
"While she's young at heart, she's not as young as she used to be, and I start to worry about her," said Britt, who works at Best Buy's corporate office in Minneapolis.
She's one of millions of Americans who balance caring for aging parents with raising their own children, working full-time jobs and fulfilling other obligations. By 2020, one in five Americans will be 65 or older. And nearly 90 percent of people that age say they want to stay in their homes as long as possible.
That's why Best Buy launched Assured Living, a new service to give caregivers peace of mind and allow aging parents to live independently. It uses non-intrusive sensors and notifications to inform loved ones of the parent's daily activities, such as movement and sleep patterns.
The service also gives elders access to the ease and convenience of the latest smart home technology. That allows them to use voice commands to turn on the lights, answer the door or adjust the thermostat without getting up.
Assured Living is currently available in Minneapolis and Denver.
Assured Living provides peace of mind
The idea for Best Buy Assured Living was born in response to customers who came into our stores looking for smart home technology to help keep tabs on their aging parents.
"We looked at several options, and we felt strongly that we didn't want to use wearable devices or cameras," said AJ McDougall, who oversees Assured Living for Best Buy. "We want our elders to feel very independent. We just need to know they're still safe and secure when we're not there."
With Assured Living, customers buy the products and sensors. The no-contract monitoring service costs $1 or $2 per day.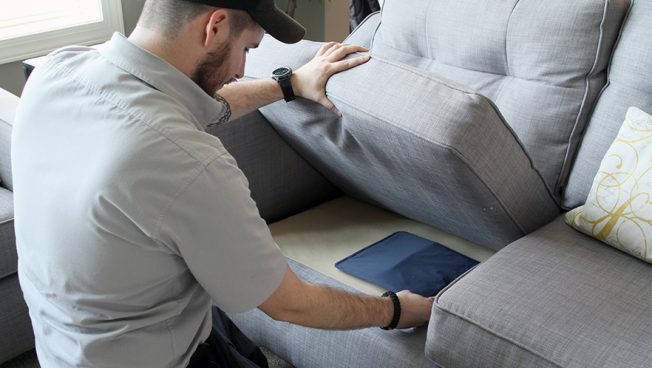 Caregivers and their parents can track the data from the sensors using an online dashboard or mobile app, or sign up to receive customized notifications via the app, text or email. The sensors can show whether an aging parent opened the medicine cabinet or refrigerator that day, quality of sleep and activity levels.
Over time, the system learns the parent's daily routines, so it can notify loved ones of abnormal activity.
"Right after the installation, I started checking the app often, but I realized quickly that I didn't need to do that — the system was smarter than me," said Britt, whose mom, Jane, has been using Assured Living in Minneapolis. "It understood what my mom's average levels of activity were and could tell me when something seemed a little off."
Meanwhile, all of the smart home tech — including an Amazon Echo voice assistant and smart doorbell, lights, locks and thermostat — is making things easier and more convenient for Jane.
"I really, really like the technology," she said.
Caregiving advisor provides expert advice
The process starts with a free in-home consultation with a Best Buy caregiving advisor, who helps recommend a customized plan based on the family's needs. Parent and child are involved throughout the process to ensure everyone is on the same page about the information they will collect and share with one another.
"I ask a lot of questions," said Mike Guli, a caregiving advisor in Denver. "I'm there to listen to your concerns and see if technology might be able to solve some of those concerns and give you peace of mind."
Then the caregiving advisor returns to the customer's home with a Geek Squad Agent to install the sensors and smart home products, all of which are backed by 24/7 Geek Squad support. The caregiving advisor also helps set up the notifications.
Families can bring the data along to a doctor appointment or use it to have more informed conversations with their loved one. It might even change the types of conversations they have.
"A lot of caregivers call Mom twice a week and drive over to see her once a week," said AJ, whose mom is using Assured Living, too. "Now those phone calls can be fun chats, not about, 'Did you eat today?' We're more informed before we make those calls."
And that's what it's all about. Mom's safe and independent, and now her family has peace of mind.
Click here for more information about Best Buy Assured Living.