Customers in Charlotte, North Carolina, will be among the first in the nation to try out a number of new shopping experiences at Best Buy — just in time for the holidays!
Our teams in Charlotte are testing a few new store models, all of which will work together to meet our customers' varied and changing needs. This reflects our belief that there's no such thing as a single, perfect store — instead, it's all about a mix of different types of experiences working together within its specific community.
These new models include five stores that will have a few minor changes and two stores with new and expanded product categories. There's also a first-of-its-kind outlet store and a new experiential store that Charlottonians won't want to miss.
Additionally, each store will test different types of fulfillment and services, ranging from more warehouse space for online orders to expanded tech repair and support. And all locations will include new pick-up lockers, for around-the-clock pick-up options.
"We know there's no single store format that's going to be perfect for everyone, because each of our customers has different needs and wants — whether they're shopping for a TV, getting their laptop fixed or need a consultant to come to their home," said Damien Harmon, Best Buy's executive vice president of omnichannel. "This is why we're testing these new models, so we can create the most seamless experience for all of our customers across the country."
We're excited to learn more as we test these new store formats, and like all pilots, expect to make adjustments along the way.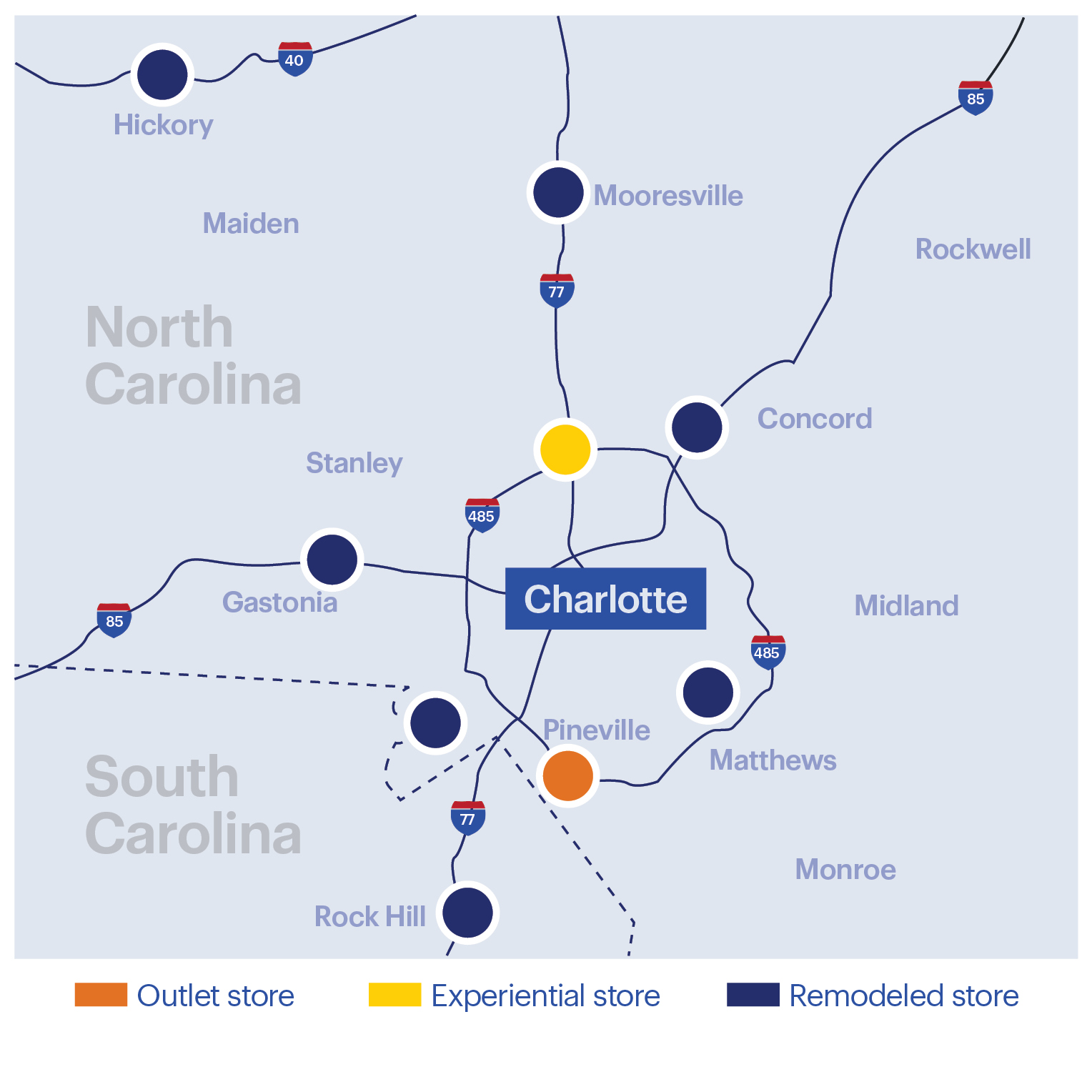 Outlet store
Our Pineville store is unlike anything shoppers have never seen before. It's an outlet store, car-installation center and services powerhouse all wrapped into one location.
This store is now the single, dedicated location for customers to shop for open-box items at a discount, with virtually every type of product, ranging from TVs and computers to appliances and more.
It is also built to handle more repairs than a traditional store, including everything from a cracked phone screen to a broken washing machine. This location will be a hub for repairs throughout all of Charlotte.
Finally, Pineville is Best Buy's first-and-only Autotech Megahub, including a massive garage ready to take on more car tech installations than most locations. Think new speakers, radios, remote start systems and much more, all done by our highly skilled and certified Autotech experts.
Experiential store
For Charlotte shoppers who want the ultimate inspirational experience, the newly renovated Charlotte-North Lake store will be one like no other. Although it's currently curbside-only as it finishes its renovations, this new location will include:
New in-store experiences with beloved brands like Samsung, Oculus, Amazon and Legos, in addition to expanded Apple and Microsoft shops.
Premium experiences for audio, home theater and luxury appliances, as well as an in-store selection of fitness equipment.
A larger Geek Squad services area.
Remodeled stores
We've also remodeled our more traditional stores in the area, which include all the products our customers love and expect from us along with some new-and-improved elements. For example, our store in Gastonia includes a new Customer Fulfillment Center, an expanded warehouse section with new technology that lets us fulfill online orders better — and faster — for local shoppers.
Two of our remodeled stores (Concord Mills and Hickory) now include expanded areas for home theater, appliances and computing, as well as new branded experiences from Apple, Microsoft, Google, Samsung, Sony and LG.
Click here to find a Best Buy store near you.