At Best Buy, we know we're at our best when we reflect our customer base and the population of the communities we serve.
In celebration of Hispanic Heritage Month, we're highlighting a few of the many Latinx employees contributing to the success of our business and company culture.
Here are their stories.
Rudy Hernandez
Vice President, Retail Strategy and Optimization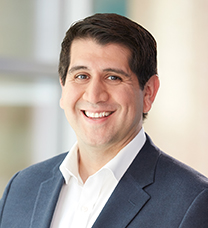 Rudy Hernandez's mother grew up in a loving Mexican-American family in Gary, Indiana. But there was limited opportunity there, and she was determined to find a better life.
She focused on academics and got into Indiana University. By her junior year, she was pregnant with Rudy and soon became a single mom, hundreds of miles away from her family.
"At that point, she made the single biggest decision that changed the course of my life," Rudy said. "Everything in her being told her, 'I have to finish school so my son will have a different life.' So, she slugged it out. She finished school, kept diapers on me and formula in my belly."
Rudy's mom started working in Indiana University's dining hall so she could provide for her young son, and now she's the school's director of dining. That's what motivates him to succeed in everything he does, both professionally and as a husband and father.
"My mom is the cornerstone of everything, and I got to see her work ethic and grit come to life," he said. "As I think about leadership philosophy or style, it all comes down to making sure you're clear about your purpose. For me, that's to make sure my mom's struggle was not in vain."
Rudy has spent his entire career at Best Buy, starting in a finance role and exhibiting the grit he learned from his mother by taking on a variety of positions across the company over the past 15 years. He was recently promoted to vice president, a role that gives him the visibility to share his story and encourage fellow Latinx and Hispanic employees.
"If my story resonates with anyone, I want to sit down with as many of them as I possibly can," he said. "I want them to know this a place where they can grow and become a future leader."
Vera Djaballi
Retail Associate, Store 1028 (Midtown Manhattan)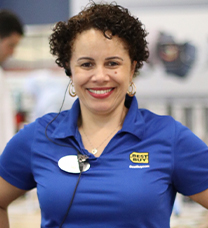 Vera Djaballi never thought she'd leave Brazil, but now she's working in the heart of New York City.
For the past seven years, Vera has been a sales associate at our Best Buy store in Midtown Manhattan, located just a few blocks from Times Square. She moved to New York with her husband 11 years ago.
At first, she started working at the store to improve her English. But now she spends most of her time assisting tourists from around the world, bouncing between departments and languages all day.
"It's rare to speak English in this store," she said. "Most of the time it's Portuguese and Spanish."
Vera's superb customer service has made her popular with local customers and those from around the world. In fact, it's not uncommon for people from Brazil to ask for her after hearing about her from friends and family.
Vera has always loved interacting with and helping other people. That's a passion she developed as a child in Brazil, when she would help her grandma collect donations to take to the church to help people in need.
"When I'm on the sales floor, I'm not just looking for the profit," she said. "It's like I'm helping dreams come true. I see a lot of people buying souvenirs or presents for others, and it makes me happy to think that somebody is going to unwrap it and say, 'Wow, this is what I was waiting for!'"
Vera enjoys getting to know the customers and helping them find the products they need.
"When you love what you do, you don't work," she said. "You have fun."
Davian Altamiranda
District Manager, South Florida/Puerto Rico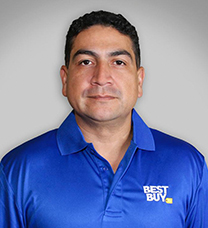 Davian Altamiranda's parents moved from Colombia to Miami in search of a better life. Throughout his childhood, they each worked two jobs to provide for the family and send Davian and his two sisters to private school.
"They always instilled in me the importance of hard work," said Davian, Best Buy's district manager for South Florida and Puerto Rico. "I am who I am today because of the sacrifices my parents made."
Davian began his Best Buy career 22 years ago. Then a college student, he started working at our store in Hialeah, Florida, about a mile from his family's home.
Through the years, Davian has worked in a variety of different stores and roles. But he has always loved interacting with customers and having the opportunity to lead people.
"I love to find the potential in others and helping them find the opportunities they need to unlock that potential to become the best version of themselves," he said. "When I think of what my parents did for me, they tried to give me the best opportunity they could based off what they knew. That's what I try to do and instill in the people I interact with."
Davian views Best Buy as his second family, a mindset that was solidified when Hurricane Maria hit Puerto Rico in 2017. In the aftermath of the storm, he saw how the company supported its employees and how they supported one other.
"Everyone is important no matter what level of the organization," he said. "It was amazing to see how everybody united together, like a family, to help one another."
Brittani Uribe
Web Developer, Communications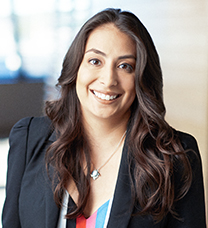 At first, Brittani Uribe wasn't excited to attend the Geek Squad Academy camp in Houston as a high school senior. In fact, she only agreed to go because she wanted to visit the nearby mall.
Little did she know that decision would prove to be a major turning point in her life.
"In attending that camp, I really fell in love with technology," she said. "There was something about it that really clicked with me."
Brittani rekindled that love when she got a job at Best Buy while attending college in Minnesota. She started in the mobile department at a local store, then became a Geek Squad Agent and, ultimately, went to work at the corporate campus.
From there, she spent two years working for our Social Impact team. She traveled the country, bringing the Geek Squad Academy camp she attended years ago to cities and students across the U.S.
"I saw kids just like me fall in love with technology," she said. "It was probably the point in my career that was the most rewarding and fulfilling."
Today, Brittani is a web developer for the communications team, helping develop tools that the company and employees use to share information. She's also a proud Mexican-American and has led Best Buy's Latinx employee resource group for the past four years.
"It's really about creating a sense of belonging," she said. "We're really trying to make it so when you step in the doors, we're making employees and customers feel like they have a voice and that they're contributing to this culture we call Best Buy."
Learn more about Best Buy's Diversity and Inclusion efforts here.