[November 15 is America Recycles Day. At Best Buy, we aim to positively impact the world, enrich people's lives through technology and contribute to the common good. We demonstrate this through our commitment to communities, people and the environment.]
The laptop, phone or tablet you're reading this on might become part of an airplane one day — that is, if you recycle it.
At Best Buy, we have helped our customers recycle more than 2 billion pounds of electronics and appliances since 2009, making us the largest retail collector of e-waste in the United States.
"We are committed to supporting our customers throughout the lifecycle of their products," said Tim Dunn, Best Buy's head of environmental sustainability. "Making electronics recycling easy is one important way we can serve our communities and protect the environment,"
Our goal is to make it really easy. You can drop off old electronics for recycling at any Best Buy store, and our trade-in program provides gift cards for items that still have value. You can also use our haul-away program when you buy new TVs, appliances or fitness equipment.
But what exactly happens next?
After being collected by a Best Buy associate, they are shipped to Regency Technologies or Electronic Recyclers International (ERI), our trusted recycling partners. These facilities wipe any remaining data from devices before determining if the product can be repaired, repurposed or recycled.
Then, they break down materials using shredders, equipment and manpower and ensure the reclaimed commodities are recycled and repurposed into new products like fiber-optic cables and even airplanes. Plastics can be made into new electronics or other items.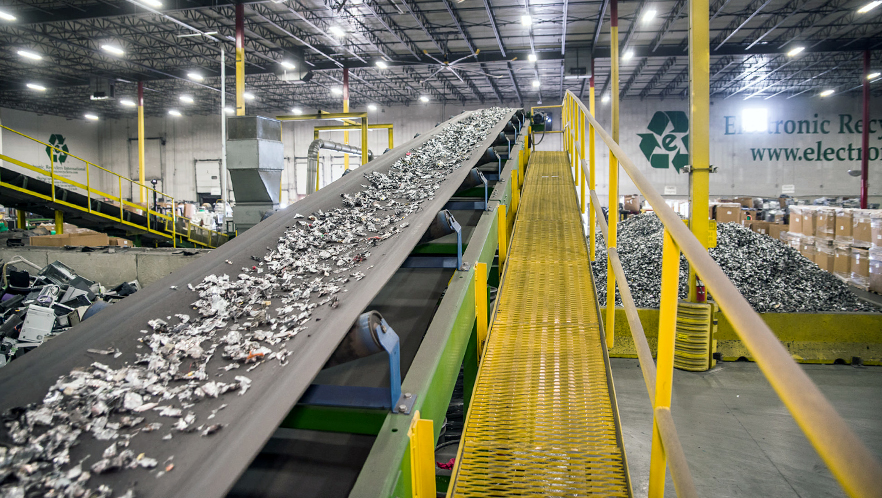 A 50 million-ton problem
E-waste is a large waste stream — and an important one — to manage. There are 50 million tons thrown away each year.
Best Buy is committed to being part of the solution. Last year alone, we sent more than 200 million pounds of consumer electronics and appliances to our recycling partners.
And this program is just one of the ways we are working to protect our environment. We have a goal of reducing carbon emissions in our operations by 75% and reducing carbon emissions for our customers by 20% — all by 2030.
We recently signed The Climate Pledge, a commitment to be carbon neutral across our business by 2040 — a decade faster than our previous goal of 2050.
Tips for e-waste recycling
Here's what you should know before bringing your electronics in to your local Best Buy.
See if your tech has value by using our Trade-in Calculator.
Check to see what items are accepted at your local store and what fees might be associated.
Our recycler renders all data unrecoverable, but you can also wipe your hard drive before coming in. Here's how to do it.
Real people collect and sort the recycling, so please clean your items before bringing them in.
Our stores are subject to local COVID-19 safety measures, so check your store's hours before heading in.
Read more about Best Buy's recycling standards here and our commitment to the environment here.