Best Buy Health is making it easier to live safely and independently in your home with the availability to access Lively Urgent Response through compatible Alexa-enabled devices. This new capability provides users 24/7 support from a caring Lively Urgent Response Agent.
Starting now, customers can link their Lively and Alexa accounts together, giving them access to the Lively Urgent Response services with a simple voice command. Lively Urgent Response can be reached on a number of Alexa-enabled devices in the home, including Echo, Echo Show, Echo Dot, Fire TV Cube and Fire Tablet (when Show Mode is enabled). Customers can also place multiple Alexa devices in their home to make sure Lively Urgent Response is available throughout their living space.
When enabled, users can say, "Alexa, call for help," and will be immediately connected to an Agent who will assess the situation and get them the help they need. Agents can assist with emergencies where authorities need to be dispatched, as well as non-emergencies, like hearing a concerning noise outside or experiencing a non-life-threatening medical issue.
To ensure Lively customers get fast, customized support unique to their needs, Lively Agents can access a customer's personalized profile. These profiles include detailed information about the caller, including allergies, health conditions, medications, contact information of family members who should be alerted of certain situations, details on how to access their home and more.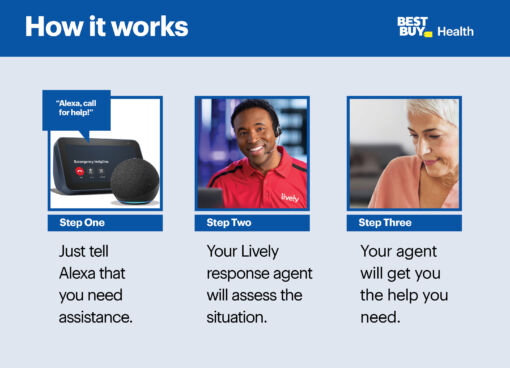 "Our customers want to live independently in their homes and offering Lively Urgent Response on Alexa is a great way for them to easily and discreetly access the help they may need with a simple voice command," said David Inns, president of active aging at Best Buy Health. "This is another exciting step in continuing to support our Lively customers, and those who care for them, whenever — and wherever — they need us."
"Every day, Alexa helps millions of people around the globe stay connected — no matter the distance," said Beatrice Geoffrin, director, Amazon Alexa. "Together with Best Buy Health, we're excited to offer customers another way to get help anytime they need it. Now, Lively Urgent Response customers can simply ask Alexa to connect them with a trained agent 24/7, giving customers and their families more peace of mind."
Lively Urgent Response is also available on Lively Mobile+ medical alert, Jitterbug phones, Apple Watch and through the Lively app. Those who do not currently have a Lively Health & Safety Services plan or Alexa-enabled device can visit BestBuy.com or Lively.com. Best Buy stores across the country will also carry these devices and plans, and our expert associates can help customers create their Lively and Alexa accounts and ensure they are properly linked. Customers looking for additional assistance can have Geek Squad visit their home to set up their device and link their accounts (this service is FREE for Best Buy Totaltech members).
For more information on Lively devices services, visit Lively.com.
PR Contact:
Keegan Shoutz