Let's say you wake up in the middle of the night with a throbbing pain in your ear. You could head out to the emergency room, suffer through the night and go to the clinic the next morning, or head to the cabinet and pull out the TytoHome device for a quick diagnosis.
TytoHome, from Tyto Care, is a first-of-its-kind medical examination device that can be used in your home. It takes recordings of your pain points and puts you in touch with a doctor.
And you can get it exclusively at Best Buy in select stores and on BestBuy.com. It's another example of Best Buy's growing commitment to health and wellness and our dedication to enriching the lives of our customers through technology.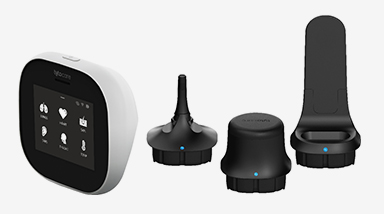 The device comes with various attachments that examine the heart, lungs, skin, ears, throat and abdomen for acute illnesses — from a sore throat and fever to bug bites and skin rashes.
A smartphone app walks you through instructions for capturing the images you need. With a few more clicks and a brief description of the symptoms, you send along the results to a physician for review. Sanford Health will provide care to TytoHome users in Minnesota, North Dakota, South Dakota and Iowa, and LiveHealth Online will cover care for users outside of these states.
Shortly thereafter, a doctor will consult with you, determine a diagnosis and send a prescription for you to pick up. Time saved, relief sped up.
For more information about TytoHome, check out BestBuy.com.