Starting today in select markets, Best Buy is piloting a new membership program, called Best Buy Beta, that will provide customers with an array of benefits, including exclusive member pricing, unlimited Geek Squad technical support, up to two years of protection on most product purchases, free standard shipping and delivery, and free installation on most products and appliances.
For $199.99 per year, or $179.99 per year for Best Buy credit card holders, membership also includes access to a concierge service that is available only to Best Buy Beta members. The Best Buy concierge team is available 24/7 by phone, chat, email or through the Best Buy app.
"As we look to evolve our membership programs, the goal of Best Buy Beta is to create a membership experience that customers will love and to leave them feeling confident throughout their relationship with Best Buy," said Allison Peterson, Best Buy's chief customer officer. "This pilot offers premium service, complete with support aimed at anticipating our customers' needs."
The pilot is currently available at select stores throughout Iowa, Oklahoma and eastern Pennsylvania. In April, it will expand to customers and select stores in Minnesota, North Carolina and Tennessee. At that time, it will be available at a total of about 60 stores.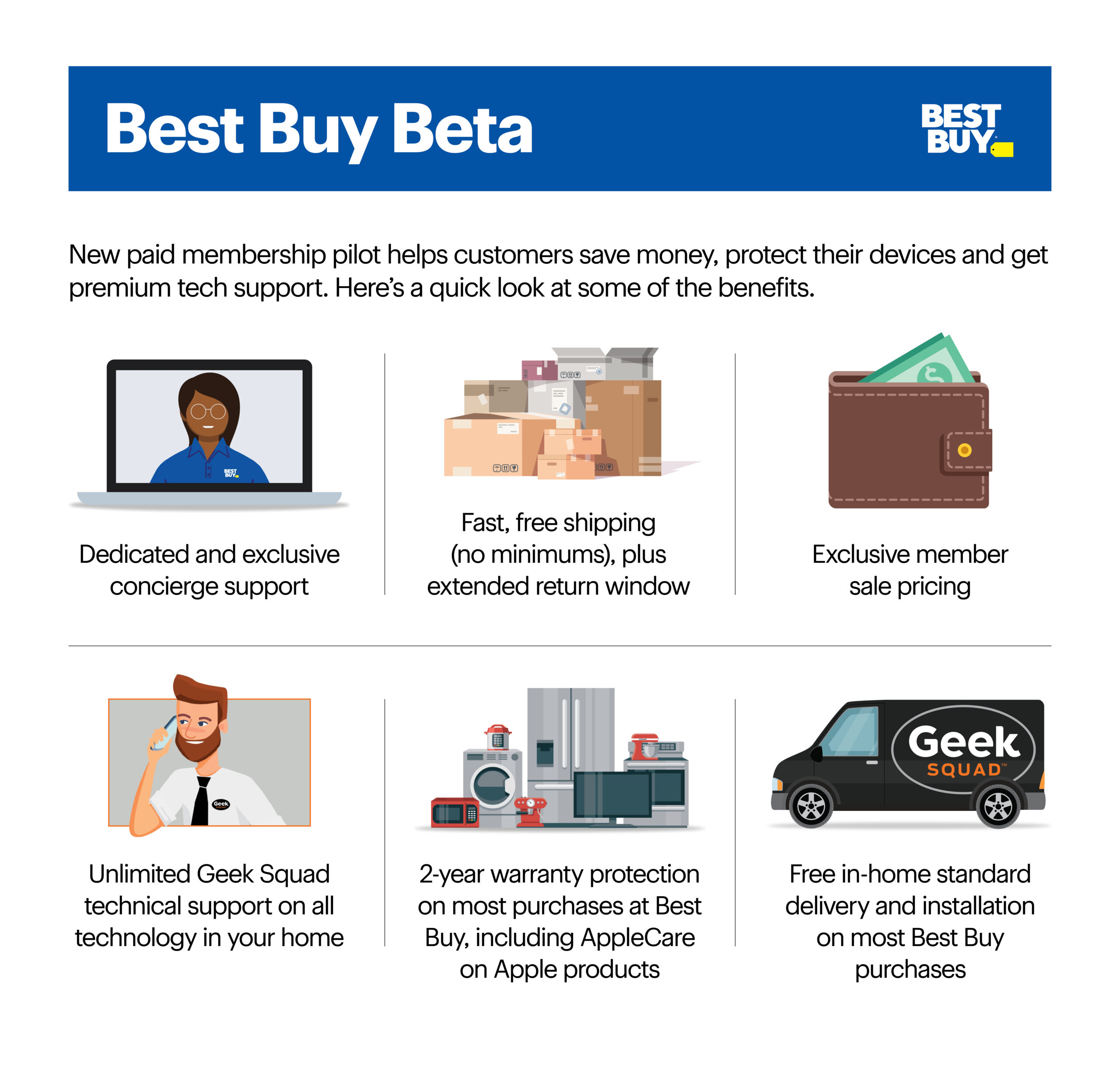 More about Best Buy Beta
Best Buy Beta membership includes:
Dedicated and exclusive concierge support
Unlimited Geek Squad technical support on all technology in your home (whether purchased at Best Buy or not)
Fast and free shipping with no minimums
Exclusive member pricing on a wide range of products
Free in-home standard delivery and installation on most products
Two-year protection on most purchases at Best Buy, including AppleCare on Apple products
60-day extended return window
10% off subscription services billed through Best Buy
Existing membership programs
Our current membership program, Total Tech Support ($199.99 per year) is still available to customers outside of our Best Buy Beta pilot markets. Our My Best Buy points program continues to be available nationwide.
---
To sign up to become a Best Buy Beta member, visit a local Best Buy store in one of our participating cities. Click here to check our store locator.