Jasmine Lankford opened the small orange box and removed the contents of the Kano computer kit. It contained an HDMI cable, speaker, wireless keyboard, HD display, battery and, most important, an instruction book.
Then, the eighth-grader spent the next hour building her own PC, step by step. "I love this. This is so awesome," she said with a huge grin. "I've made my own computer!"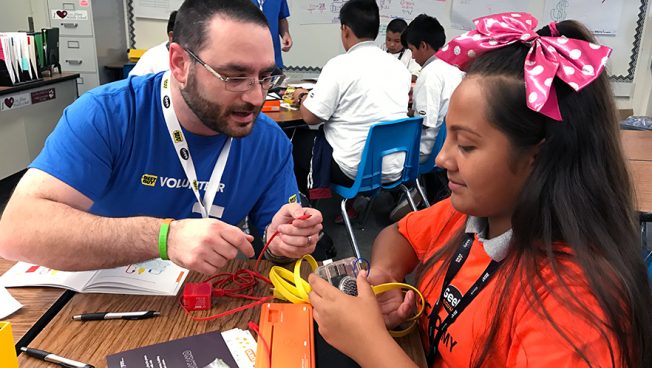 Jasmine was one of 300 students at Los Alisos STEM Magnet Middle School in suburban Los Angeles who built Kano computers Tuesday afternoon with help from more than 100 Best Buy employees from across the country. Employees also helped 100 students at the Boys and Girls Clubs of Garden Grove build computers.
The volunteer events helped kick off Best Buy's annual Holiday Leadership Meeting. It brings Best Buy leaders together to prepare and get fired up for the upcoming holiday season.
"Did you see those kids? That was awesome," said Tom Campbell, general manager at the Best Buy in Montclair, California, after helping at Los Alisos. "I think I got more out of it than they did."
Providing tech opportunities
Events like these are part of Best Buy's commitment to positively impact the world. The Best Buy Foundation, which donated the computer kits, focuses its efforts on providing underserved teens opportunities to develop tech skills that will help them prepare for post-secondary education and careers.
"We feel our purpose in life is to help people pursue their passions and enrich their lives with the help of technology," Best Buy Chairman and CEO Hubert Joly said Tuesday at Los Alisos. "We do this by serving customers, we do this by helping each other, and we do this by touching the communities in which we operate."
That's exactly what happened for more than 400 children in the Los Angeles area on Tuesday.
"Thank you for investing in our future scientists, mathematicians, engineers and high-tech executives," Los Alisos Principal Majid Salehi told the Best Buy volunteers.
Check out Best Buy's Community Relations website to learn about how we give back.