When Jennifer Salinas joined Best Buy as a seasonal store employee in October 2018, she never imagined she'd someday be working for the corporate office.
Over the past few years, Jennifer has gone from cashier to sales advisor to a leadership role as a supervisor at a store in suburban Chicago. The college senior has enjoyed that journey but was prepared to leave the company to pursue an internship this summer.
Thankfully, she didn't have to because her manager pointed her to an internship within the company. Now, she'll spend the summer working in product management for Best Buy's Digital, Analytics & Technology team.
"I used to activate cellphones in the store, and now I'm in the department in charge of mobile activation," she said. "I'm meeting with the engineers, user design and the finance team to help develop new features."
Jennifer is one of almost 200 interns who recently joined Best Buy's corporate teams for the summer. It's our largest, most diverse class of interns ever. Nearly two-thirds of the interns are BIPOC (Black, Indigenous or people of color), and almost half are women.
This year's class also includes students who have a range of neurodiverse abilities and various seen and unseen disabilities.
"As a person who identifies as hard of hearing, I have been amazed by Best Buy's commitment to diversity and inclusion," said Shawn Madden, who is interning on our tax team. "Even during the interview process, I felt as though I could be my true authentic self. Truly, Best Buy's culture is fantastic."
The interns — ranging from high schoolers to PhD students — will work across a range of departments, including finance, marketing, merchandising and supply chain. The largest group, about a third of the students, will work in Digital, Analytics & Technology.
They come 26 different states and more than 70 different colleges and universities. Twenty-eight interns, including Jennifer, are Best Buy store employees.
About half of the interns will be in person at our corporate offices. The rest will work remotely.
"I'm excited for the possibilities and the impact they will have," said Lindsay Harris, who leads the intern program as our senior manager of emerging talent. "They're smart, driven and curious. I'm excited to see the work they do and how they add to the culture here."
An opportunity to learn, grow
Best Buy's intern program isn't just about the next three months. It's specifically designed to create career paths for the students involved.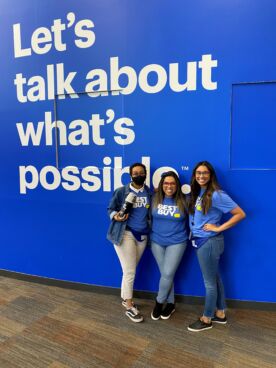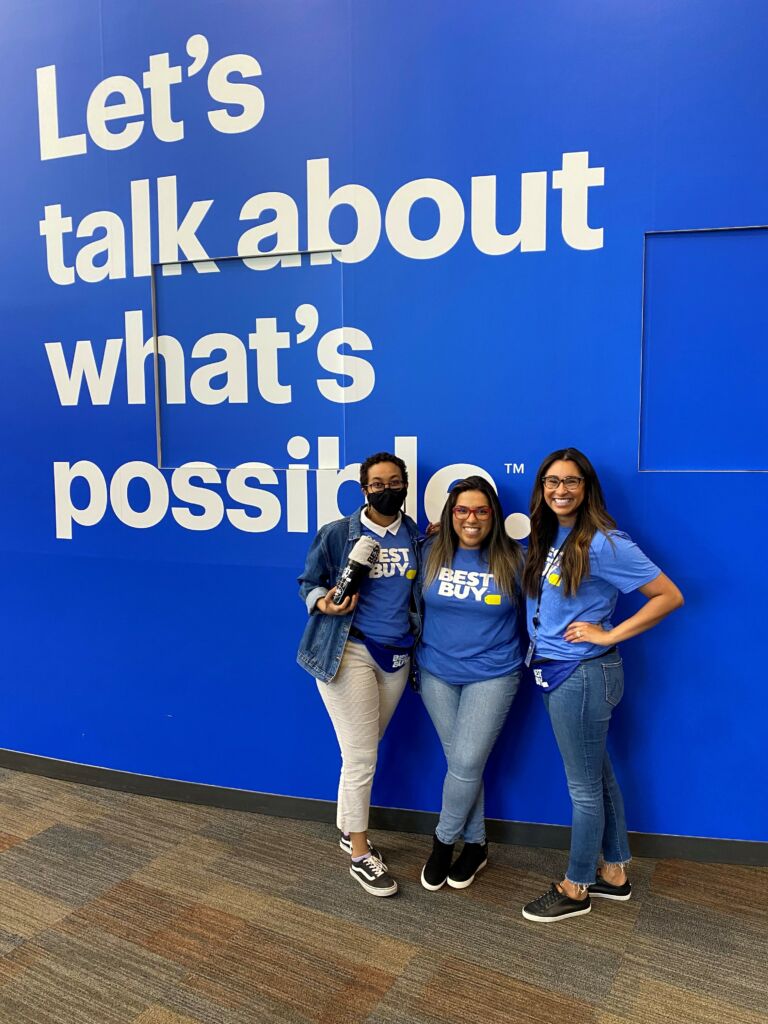 Most students who are nearing graduation will receive a job offer at the end of the summer. Last year, we hired approximately 80 of our interns. They're now full-time employees in a variety of departments, including engineering, finance, marketing and public relations.
"It's real work," Lindsay said. "We're creating jobs."
Shawn, who is double-majoring in accounting and management information systems, said interning on the tax team this summer combines his passions for accounting, finance and technology. He's excited to grow professionally by expanding his technical skills.
"Being an intern on the tax systems team has already taught me so much, even though I have only been an intern for a short time," he said. "I am excited to continue to learn how technology can be utilized in finance to unlock valuable information from the underlying data."
In addition to invaluable on-the-job experience, interns also will participate in more than 30 events over the course of the summer. That includes everything from professional development and volunteering to a speaker series with top Best Buy executives, including CEO Corie Barry.
Jennifer is excited for everything to come this summer, and she hopes it's just the next step in her Best Buy career journey.
"Best Buy has really surprised me over the years with all the opportunities it offers," she said. "I think it's one of the best companies to work for."
Visit our careers site to learn more about opportunities at Best Buy.