Summer is officially here. It's time to put on your shorts, fire up the grill and make a pitcher of lemonade.
Chances are you'll probably be spending more time in your backyard than in your living room over the next few months. But that doesn't mean you have to leave your favorite tech inside— in fact, the right tech can help enhance your outdoor experience.
With that in mind, we chatted with two of our Magnolia audio, video and home automation experts in sunny Southern California to find out how to create the patio of your dreams.
Landscape audio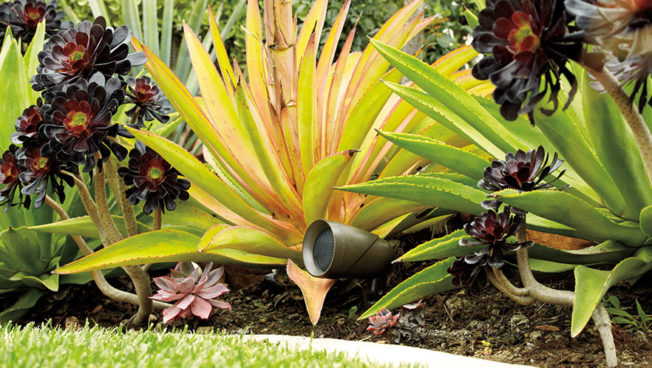 Whether you're having friends over for a barbecue, splashing in the pool or just enjoying a quiet evening on your deck, some good tunes can make it more enjoyable. In fact, our Magnolia experts say audio is the No. 1 thing people are looking for in backyard tech.
If you're all in close quarters, you might be able to get away with a portable Bluetooth speaker or a pair of mounted outdoor speakers. But, if you really want to take your patio game to the next level, you're probably looking at a landscape audio system.
Magnolia Regional Custom Manager Derrick Davis has a Sonance Sonarray outdoor speaker system, which includes eight speakers and a subwoofer, at his house. "It blends in with your landscaping," he said. "The speakers are designed to go inside your planters, and the sub can be buried into a garden bed."
It's not just about visual aesthetics, though. The Sonarray system provides great sound quality that's evenly distributed throughout your yard. It directs sound toward your listening area and away from your neighbors.
"You have more speakers so your coverage area is a lot wider, and you don't have to blast your speakers to hear them across your backyard," Derrick said. "You spread them out, so you get the same, consistent volume level as you walk through your yard."
Outdoor TVs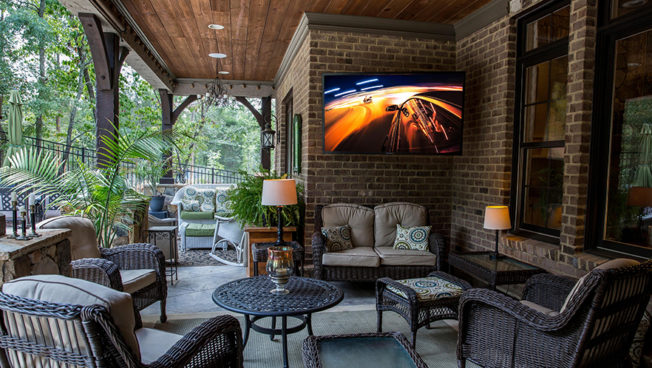 Think TVs are only for inside your house? Guess again. You can stream a movie or binge-watch your favorite TV show without missing out on a gorgeous evening.
SunBrite TVs are specifically designed to endure whatever Mother Nature has in store. There are options with commercial-grade, antiglare, heat-resistant screens — and some models are even available in 4K UHD.
"It can be in direct sunlight, right next to the pool or where it will get sprayed by a sprinkler or rained on," said Chris Shauan, a Magnolia project manager. "They're made to be outside."
If you want to go bigger, you could opt for an Epson outdoor projector and an outdoor projector screen that would be perfect for family movie nights.
Smart lighting and automation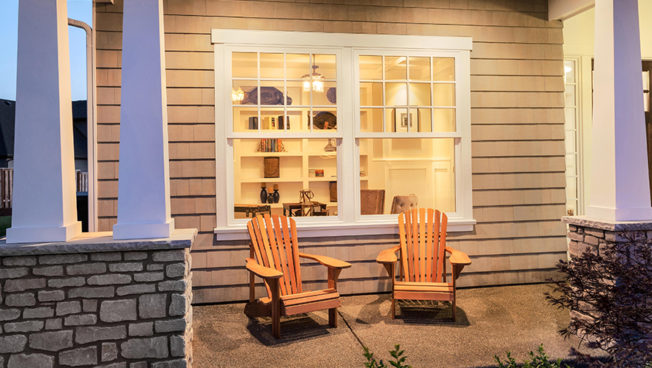 Smart lights, including products from Philips Hue and Lutron, allow you to control all of your outdoor lights from an app.
"Everybody has lights in their backyard. Are you using a switch or are you automating that somehow?" Chris said. "Depending on the size of your property, you'd be turning on and off five or six different light switches every night."
You can even schedule your lights based on an astrological time clock, so they automatically turn on at sunset and off at sunrise every day. Plus, smart lights let you change the color of the lights to help set the mood on your patio or by the pool.
Automation isn't limited to lighting. You can control almost everything — including your speakers, fountains, fire pit and sprinklers — with a Savant Remote + Host entertainment package.
Wi-Fi coverage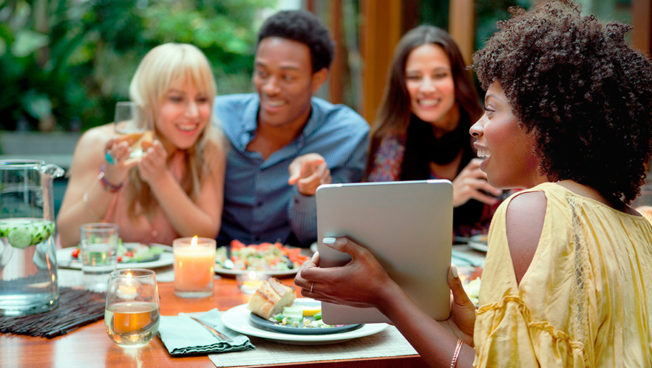 Now that you've got all of this cool tech in your backyard, you need to make sure you have the Wi-Fi signal you need to run everything. Some routers might cover your deck but not all the way to the edges of your yard. And, even if they do, the connection might be too slow.
"Having an outdoor wireless access point (WAP) installed allows you to target specific areas where you spend the most time, so the Wi-Fi coverage is seamless," Derrick said.
For more information about outdoor tech, visit your local Best Buy store or find additional inspiration on Magnolia's website.