Jasmine Morris has been going to the King's Highway branch of the Brooklyn Public Library almost daily since seventh grade. Now, a little over two years later, there's more reason than ever to visit.
That's because the library is now home to a Best Buy Teen Tech Center, a free, interactive learning space where teens like Jasmine can explore technology and learn how to use it. There are computers, cameras, virtual reality devices, a 3-D printer and full music studio.
"My first time going to the center, it was literally jaw-dropping," Jasmine, 14, said at a grand opening event on Thursday. "I was amazed to see and hear about all the activities this place has to offer."
The Brooklyn location — a collaboration between Best Buy and co-investment partner ERI — is our 28th Teen Tech Center, bringing us nearly halfway toward our goal of expanding the network to 60 by the end of 2020. In the past two months alone, we've added seven locations across the U.S.
It's all part of Best Buy's purpose to enrich lives through technology.
"It's really important that we have an opportunity for young kids to get experience and actually be able to interact with technology," said Rob Bass, Best Buy's chief supply chain officer. "Unfortunately, in too many cases, it's hard to get access to that. So, that is really what we're about here today — to make sure these kids can get access to technology and set them up for success in the future."
Preparing teens for the future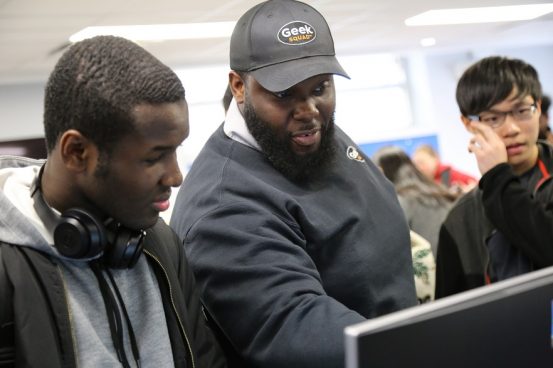 Best Buy is committed to preparing teens from underserved communities to become the next generation of inventors, engineers and entrepreneurs. By 2020, it's estimated that more than 80 percent of all jobs will require tech skills.
Best Buy Teen Tech Centers help teens prepare for those careers through hands-on experience with tech and the support and guidance of Best Buy employees, Geek Squad Agents and partners who are there to inspire them. About 95 percent of students who attend our Teen Tech Centers say they plan to continue their education after high school, and 71 percent say they have developed an increased interest in studying in STEM fields.
Earnest Rafailov, 16, has visited the Teen Tech Center in Brooklyn almost daily since it opened about a month ago. He comes to do his homework and explore new technology with his friends.
"I started working on a few projects, but I didn't really understand how the technology worked," he said. "As time went on, I started thinking, 'What else can I create?' Now I don't even use the instructions anymore. My friends and I will try to get the hang of it together, and we're getting better at understanding how things work on our own."
Best Buy's Rob Bass encouraged other teens to get involved at the center.
"You have a cool opportunity, and we just ask that you take advantage of it, have fun and learn," he said. "We just want you to use it, and we're excited about what you're going to create."
Working together for good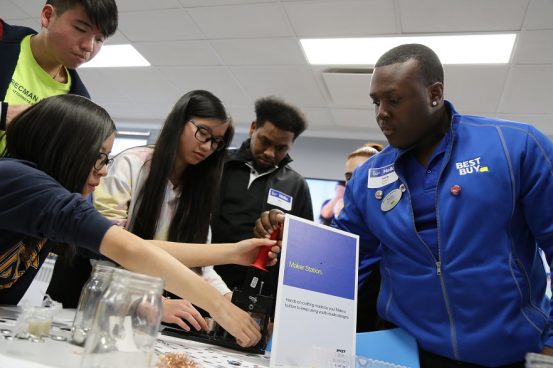 Best Buy can't do this alone. Our work is only possible through a network of dedicated employees, community organizations, vendor partners and philanthropic supporters.
In Brooklyn, our co-investment partner is ERI, the nation's leading e-waste recycler and a longtime partner of Best Buy. Google, Facebook, PwC and Canon also supported the project.
"When you get to work with amazing partners like Best Buy, the Brooklyn Public Library and the Clubhouse Network, you not only get to make a living, but you get to make the world a better place," said ERI co-founder and Executive Chairman John Shegerian, who grew up in nearby Queens. "That's where the magic is."
For him, the opportunity to give back and leave a legacy in the local community is deeply personal.
"I thought the happiest day of my life was when we announced a recycling program in New York City, because I was a homeboy coming home to do some good," John said. "I was wrong. Today is the best day of my life."
Click here to learn more information about our Best Buy Teen Tech Centers, including a complete list of locations.