DETROIT — Earlier this summer, a group of teens fanned out across southwest Detroit with an assignment: Make a video that celebrates their neighborhood using every letter from A to Z.
So, they split up and illustrated landmarks by letter. For instance, C is for Clark Park. Then they took photos and video, learned how to do voice-overs and recorded them at the Best Buy Teen Tech Center. They'll edit and aim to complete the video this fall.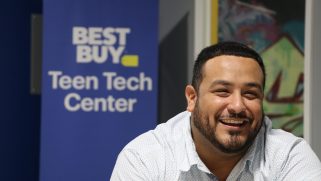 "Once you get them going, they'll learn and teach me," said Francisco "Cisco" Tinoco, the center's coordinator and ABC project assigner. He was born and raised in the neighborhood and has a background in digital media production, video and photography. "I'm the biggest kid here, and I just want them to see what they can do."
And that's exactly the point — give teens access to technology, and let them see what's possible for their future. The Teen Tech Center in Detroit, a growing tech hub, is one of 30 such spaces across the United States. The centers are equipped with cutting-edge technology where teens can learn new skills, keep up with classes, make positive adult and peer relationships, and discover paths to careers.
Best Buy works with local nonprofits and more than 50 funding partners to provide the opportunities for teens to pursue their dreams. Our goal is to have 60 Teen Tech Centers open or identified by the end of 2020.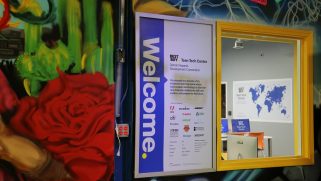 The Detroit Hispanic Development Corporation (DHDC) houses our Teen Tech Center in Michigan. Located in a sprawling one-story building in the historic Corktown neighborhood, DHDC has been serving the traditionally Latinx community of southwest Detroit for more than 20 years. It offers a broad range of services for families, from English as a Second Language and financial literacy classes to reentry and advocacy programs.
"It's a place where you can express yourself, grow as a person and learn new things," said Alex Enriquez, who started going to a DHDC robotics program when she was 15. That was four years ago. Now she's studying computer science at a nearby college and volunteers at the Teen Tech Center.
A Teen Tech Center tour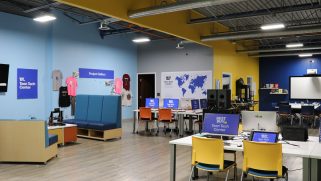 Key to DHDC are its youth programs, including arts, robotics and now the Teen Tech Center. It serves more than 5,000 youth and adults each year.
Step inside the building, pass through a couple of doors and there's an open space with tables for homework and snacks. Many of the walls are covered with colorful murals – several done with spray paint – of indigenous Mexican lore and modern-day scenes.
Go through another door, and it's a veritable tech playground. There are computers, cameras, 3D printers, microphones, mixing boards and more. A podcasting station is planned. One end of the room is painted green for video visual effects and virtual reality. The other is an industry-standard recording studio. There's a wall showing off t-shirts and graphic designs made by teens.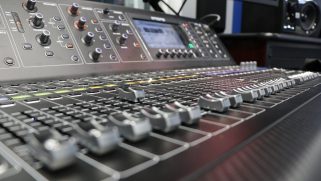 "No matter what, there's something in here for everyone," said Cisco, who said he loves seeing a teen's eyes get big when they do something with technology for the first time..
The Teen Tech Center opened last spring, and this summer about 150 teens spent time there. During the school year, Cisco anticipates that number to range from 40 to 80 students per week, many showing up daily. Nationally, 10,000 teens each year go Best Buy Teen Tech Centers.
'A path to follow'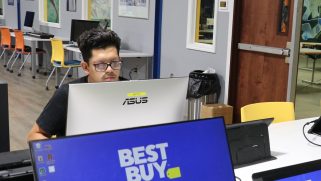 Cristian Gutierrez had been attending various programs at DHDC for nearly a decade. A few years ago, he discovered a passion for 3D printing.
He learned computer-aided design programs and how to create his own objects to print. Then he got a part-time job and bought his own printer.
Now 19, Cristian came back over the spring and summer to teach teens how to design and print 3D objects on the center's three machines. A shelf in the Teen Tech Center displays finished products, from chess pieces to masks to toy figures.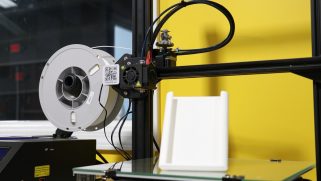 "I had no idea we'd get all this tech — it's incredible," he said, recalling the time before the Teen Tech Center.
Cristian plans to make a career related to 3D printing, whether that's starting his own business to make custom items for clients or working in one of the industries where the skill is in growing demand.
"Before, I saw myself maybe doing construction," he said. "But this place has given me a path I want to follow. It's had an impact on me."
Click here to learn more about Best Buy Teen Tech Centers.