Severe body pain, numbness and fatigue weren't enough to keep Kym Chapman from helping customers.
The Best Buy employee, who was diagnosed with multiple sclerosis (MS) in 2008 after three years as an assistant manager at a Minnesota store, continued to work and inspire others despite not knowing how the disease would affect her next. Her nerves could break down, potentially leaving her unable to see, think, walk or talk.
"Every MS story is different and I'm lucky that my journey has not been visible to other people, like other MS diagnoses," she said. "At the end of the day, I want to be known for me — not the disease."
Kym, who now has a corporate job supporting Geek Squad and customer care, is also working toward a world free of MS. For the past decade, she and her Best Buy co-workers have participated in Walk MS, an annual event that raises awareness and funds to find a cure. It also aims to build a community to support those with MS.
"Kym's mindset through everything still gives me goosebumps," said Tracy Hanson, Kym's general manager at the Minnesota store. "She is an inspiring, fiery woman who finds detours around every roadblock. She always had a huge heart for giving back to the entire community, so it made perfect sense to support her through this walk. Our team rallies around her because if more people are aware of Kym and MS, they start to humble themselves and see things differently."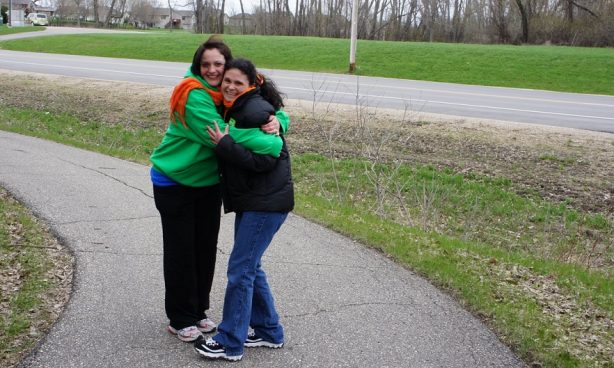 Learning to live for today
As one of 10,500 estimated people per year diagnosed in the U.S. with MS, a disabling central nervous system disease. After many tests and MRI scans, her doctors finally made the diagnosis and gave her some simple pamphlets to learn how her life was about to change.
Kym wanted to take control of MS and how people viewed her story. Not being afraid to ask for help or time to recover, she relied on Tracy and the rest of her co-workers for support. She educated herself and those around her about MS, learning to openly share her pain, thoughts and feelings.
She soon discovered Walk MS. Kym and her Best Buy colleagues claimed the name "Blue Crew" when they participated in their first walk in 2009. They have participated in various forms and locations of the fundraiser since but remain focused on finding a cure together.
This year, for their 10th anniversary, they're calling themselves "Blue Crew10." About 115 people across the country have signed up to join Kym's team and support the bigger cause for the race on May 5.
This year also marks a personal milestone for Kym, as it has been 10 years since her diagnosis and when doctors told her to prepare for a wheelchair. But she's still on her own two feet and embracing life to show others what's possible with a loving family and work community behind her.
"I always think about how I can maximize each day and experience," Kym said. "I jump today because tomorrow I might not be able to. 'Can't' isn't part of my vocabulary."