It's not every day you meet a tech analyst who moonlights as a face painter but then again, you probably haven't met Lynda Tysver.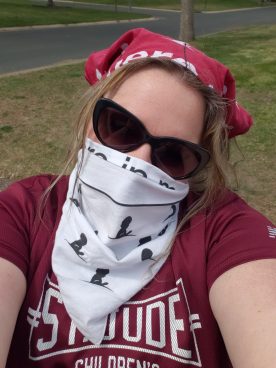 She paints faces, in part, to raise money for St. Jude Children's Research Hospital. Her favorite part is what she calls the big reveal, when she holds the mirror up for a child she's transformed into a butterfly or a dinosaur.
"It's like Christmas morning," said Lynda, who has been a contract worker for Best Buy in Minnesota for the past three years. "They light up. They giggle. It's the most blessed moment anyone could have."
And that's what she misses the most as the nation settles into its third month of social distancing because of the COVID-19 pandemic.
"It breaks my heart to think of so many nursing homes where people are sitting there just like kids at St. Jude," she said. "Waiting for something, anything, for a vaccine or a cure."
So, Lynda has taken to painting windows at houses, businesses and schools to spread joy and hope during this challenging time. She paints sunflowers and lilacs and the occasional Star Wars scene.
"We went straight from winter into COVID-19, so it's like having a flower garden on everybody's doors," she said. "I'm just trying to find a way to bring smiles to people."
Despite it being a side business, she doesn't charge for painting windows. Instead, she's collecting donations for St. Jude, a charity that she's been involved with for almost 30 years.
That's a cause Best Buy also supports. We've raised more than $100 million for the hospital since 2013 through our holiday fundraising campaigns, including a record $22 million during the most recent holiday season.
The importance of touch
Lynda first picked up a brush more than a decade ago after her grandpa moved to a nursing home.
She remembers the six-hour drive with her sister to visit him for the first time. But what changed her life was what happened when they parked the car and walked inside.
"We saw all these people just wanting to be touched," she said.
The next day, she opened the newspaper and saw a headline about the dying art of clowning. It didn't take long after that for her to discover face painting at a clown convention.
Miles of smiles
If touch is the foundation of face painting, the pandemic is a big crack threatening to bring the whole house down.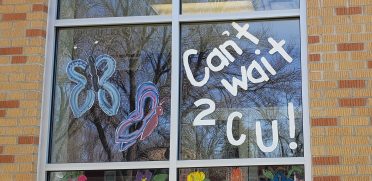 Thankfully for Lynda, she has realized that face painting's other foundational principle cannot be taken from her. She can still bring a smile to someone's face — even if she's not painting it.
She recently painted a school's windows to bring encouragement to kids who come by to pick up lunch. She painted rainbows and flowers and pawprints. She also painted messages of hope.
We miss you. We love you. Husky pride.
"You have to be present in people's lives, even if it's just through the glass," she said.
To learn more about St. Jude Children's Hospital, please visit www.stjude.org.