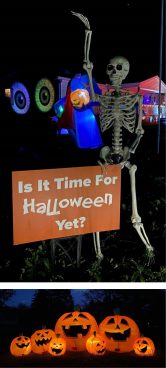 Derek Meister's family is to Halloween what the Griswolds are to Christmas.
For the past 25 years, they've decked out their suburban Cleveland home with hundreds of decorations every October. They have about 30 giant yard inflatables, a graveyard full of Styrofoam tombstones and even a high-tech light show. 
"People start coming by while we're setting it up," said Derek, a longtime Geek Squad Agent. "Some places don't even do trick-or-treating anymore, but we still get about 200 kids every year on Halloween."
The tradition started with Derek's mom, Geo Ann, who always loved celebrating holidays. It began with Christmas, but she eventually gravitated toward Halloween because she loved being able to interact with the neighbors and trick-or-treaters.
Geo Ann passed away three years ago, but Derek and his family have carried on the Halloween display. His sister, a lieutenant colonel in the Air Force, drove up from South Carolina in early October with a trailer full of decorations to help set everything up.
"It's a family affair," Derek said. "It's just great fun."
Keeping it fresh, safe
The Meisters' Halloween display has gotten bigger, better and more high-tech over time.
Every year, Geo Ann would add a few more decorations to her collection, scouring the internet and visiting Halloween stores during her frequent travels. The family's oversized garage is now filled with decorations they've accumulated.
The light show also continues to evolve. It includes a variety of spooky faces, ghosts and skeletons, as well as some familiar pop culture references.
"Every year, I try to add one or two new sequences," Derek said.
The Meisters are careful to ensure the lights only shine on their house. The neighbors enjoy it, although they've had to start buying more candy.
And it's become a tradition for children in the neighborhood, too.
"We've seen kids go from their parents carrying them up to the house as babies to the first time they waddle up in a costume, all the way into their teens," Derek said. "We always kind of laugh when they're teenagers, and they're too cool for everything. They stand at the end of the driveway, but you can tell they still enjoy it."
This year, they're making some changes because of the COVID-19 pandemic. That includes the addition of a candy slide so they can pass out candy while remaining 6 feet away from the trick-or-treaters.
"We're going to keep things safe and socially distanced this year," Derek said. "But I think you're going to have a ton of people just looking for any reason to get out, probably more than any other year."
---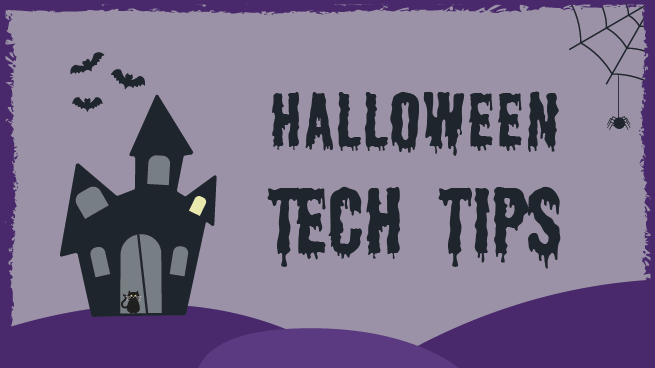 Derek is a Geek Squad Agent, so it shouldn't be a surprise that his display is heavy on the tech. He uses a high-end projector, an elaborate lighting program that's controlled by his computer and an audio setup that streams to outdoor speakers and an FM transmitter.
He also uses outdoor smart plugs to program the lights and sounds to start at dusk and turn off at 10 p.m. He's even synced it up with a weather app, so the inflatables shut down if the winds top 25 miles per hour.
Here are his tips for getting started: