What was once thought of as a niche pastime, PC gaming has come into its own, thanks in large part to the growing fan interest in professional competitive video gaming, or esports.
The numbers paint the picture, as industry experts say the global esports audience will reach 380 million this year. In 2016, the League of Legends world championship sold out the Staples Center in Los Angeles, with more than 30 million people viewing the event online.
As the hype surrounding professional video gaming continues to grow, especially in the United States, PC gaming manufacturer Alienware — with professional video gaming team Team Liquid — officially opened the doors on its own esports training facility in Los Angeles just last week to offer up some sophisticated support for PC gamers.
Yes, an entire training facility for video gamers.
Just like other professional athletes, professional gamers need constant training and exercise to stay at the top of their game. The 8,000-square-foot facility is home to sports psychologists, nutritionists, gym equipment, high-performance computers and an in-house chef.
We sent Best Buy employee Johnny Vasquez, a gaming enthusiast from our Burbank store, to check out the new facility. Here's his take.
State-of-the-art computers? Check.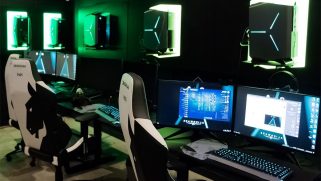 Johnny: This place is state-of-the-art, accented with the Alienware logo and neon lights throughout. There are tons of desks with high-end computers. There's even an in-house production space, with video editing bays, a media room for filming and even a recording studio. In the back is the film room, where players go to replay scrimmage and competition films to study. Everything in the film room is displayed on massive screens illuminated by Dell's 4K short-throw projectors. Last, but not least, there's the cafeteria, which holds a fridge fully stocked with energy drinks. The team's own personal chef cooks up lunch and dinner twice a day, every day.
Esports is no fad
Johnny: Visiting the training facility made me realize how much esports has grown. The Burbank Studios in Burbank, California, regularly hosts a sports league for the game Overwatch, which hundreds of local fans (myself included) attend, on top of the thousands of fans watching online. Teams from all over the world, like my hometown team, the Los Angeles Valiant, come to the arena to compete to be Overwatch League champions.
Why PC gaming?
Johnny: The great thing about esports is that it brings a worldwide community of gamers together to share their passion for gaming across all platforms. For PC gamers like myself, we love the high performance, quicker loading times and complete customization. PC gamers can upgrade components like graphic cards, processors and hard drives to enhance the overall gaming experience. It's amazing to be able to play your favorite video games at the highest specifications, with incredible graphics, immersive environments and zero lag.
Alienware at Best Buy
See for yourself all that Alienware offers by stopping by the Alienware experience space at one of 50 Best Buy stores. These spaces have a dedicated specialist who can answer questions, demonstrate products and help you get the more out of your PC gaming system. The experts can walk through various Alienware laptop and desktop features that showcase top-tier performance and revolutionary graphics.
Want to learn more about PC gaming? Visit BestBuy.com or stop into a nearby store to talk to an expert Blue Shirt.