For many Americans, Memorial Day is a day for picnics and backyard cookouts with friends and family. But it means a whole lot more to Ralph Gonzalez-Viau.
The Best Buy general manager spent four years in the Army when he was a young man. He served most of that time as a casket bearer at Arlington National Cemetery, where he participated in more than 100 funerals for fallen soldiers and decorated veterans.
"I remember seeing veterans come to the funerals because their friends and brethren fell, and they didn't want them to be forgotten," he said. "That's what Memorial Day is about — not forgetting those who sacrificed so much so we can enjoy these freedoms."
Ralph spent four Memorial Days at Arlington, where the holiday was a three-day event with a lot of fanfare. There was a big ceremony with a band and the color guard.
In preparation, he and the other soldiers in the battalion worked 15-hour days to place flags in front of each of the approximately 400,000 tombstones. Then they removed the flags after the event was over.
"I can't describe how emotional it was," he said, choking back tears even 20 years later. "I remember pulling out each flag after it was over, and it was like I was connecting to each one of the people in the graves because I had honored them for that brief moment."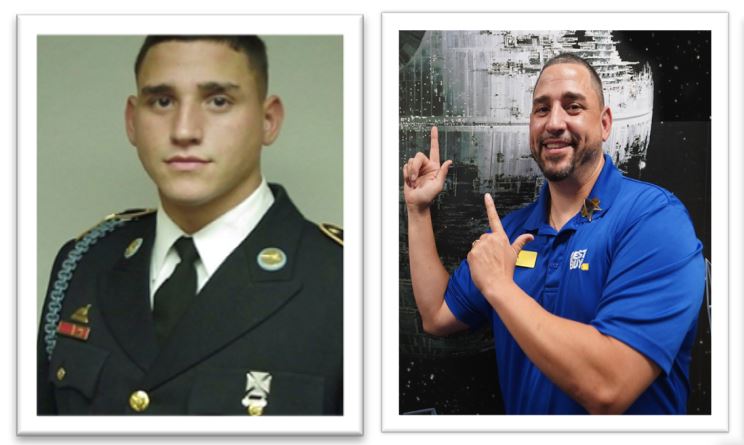 An opportunity to teach
Ralph has spent more than 20 years at Best Buy, interweaved with his time in the military. He started at the company when he was 16 years old, then left to join the Army when he was 17. In addition to his role at Arlington National Cemetery, he served in the Presidential Guard for President Clinton.
After leaving the military, he returned to Best Buy in a part-time role while attending theater school in New York. He was reactivated with the National Guard after 9/11 to help with the cleanup efforts there. He returned to Best Buy for good in 2004.
Ralph has held a variety of leadership roles at the company, including several years as a district manager in Wisconsin. Earlier this year, he and his family moved to Clearwater to be closer to his parents.
"I called my senior leadership and told them I wanted move to Florida," he said. "Within two months, they relocated me to Florida, right next to my parents."
Ralph said he's thankful for his career at Best Buy and the opportunity to lead a team and share lessons he learned while in the military. That's particularly true on a day like Memorial Day, which will always have a special meaning for him.
"A lot of people don't realize it's the day when we commemorate those who have fallen, so they'll thank me for my service," he said. "I appreciate the sentiment, but it's not my day. So, I always say something like, 'Thank God for the soldiers who gave their lives for our country.'"