For Hamza Noor, attending the grand opening of a new Best Buy Teen Tech Center in Minneapolis on Tuesday was a homecoming of sorts.
He spent four years as a student attending the original Teen Tech Center at the downtown Minneapolis Central Library. Now, he will help teens gain skills they'll need for the future as a Teen Tech Center employee at Pillsbury United Communities' Brian Coyle Center — in the neighborhood where he grew up.
"I learned so much at the [downtown] Teen Tech Center, and now this new location will let all of the youth of Cedar-Riverside have the same opportunities," Hamza said. "Before coming to the Teen Tech Center, I had never seen Photoshop before. Now, I plan on pursuing a career in digital arts."
Hamza was one of 200 people who attended Tuesday's event in Minneapolis' Cedar-Riverside neighborhood. Located just minutes from downtown, it's a vibrant, close-knit community, with many families originating from East Africa.
Teen Tech Centers provide teens with free, after-school spaces to discover technology, gain leadership skills and prepare for the future. There's a lot of fun along the way, with 3-D printing, music production and coding. But the primary focus is introduction to new career or college pursuits to build better futures.
The Teen Tech Center at Brian Coyle is Best Buy's 12th. We will open three more in the coming weeks. With each new Teen Tech Center, we're building toward our goal of preparing 1 million underserved teens for tech-reliant jobs each year by 2020.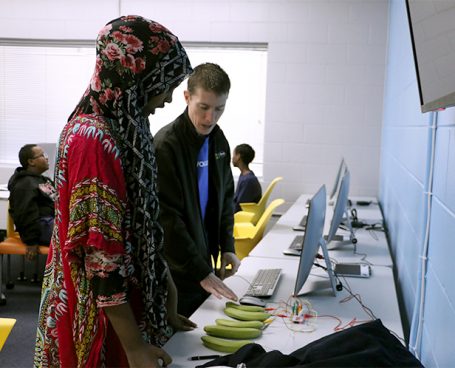 Focus on girls
What's also special about the Brian Coyle Teen Tech Center is its focus on young women. Best Buy partnered with the Women's Foundation of Minnesota to fund our Career Pathway program aimed at young women nearing high school graduation.
The program, a first-year pilot, helps build job-readiness skills. From basics like college applications and financial aid awareness to professional soft skills, we're working toward building a talent pipeline for Best Buy and other companies.
Trish Walker, president of services at Best Buy, spoke at the grand opening event about her experiences as a female in a male-dominated industry.
"I learned about technology in a class I took in school, where I was the only girl," she said. "I was lucky to be exposed to the passion early on that has become the core of my life experience."
She urged the teens in attendance to find their passion for technology because it will be an essential skill.
Providing access and opportunity
While students have science and tech classes in school, Hamza said Teen Tech Centers add on to traditional education.
"At the Teen Tech Center, I'm guiding the teens," he said. "I'm helping them see how the technology will benefit them, not giving them step-by-step instructions."
We choose the locations for our Teen Tech Centers carefully, finding those communities with the greatest need and the greatest potential.
Describing the Cedar-Riverside neighborhood, Adair Mosley, interim president and CEO of Pillsbury Unities Communities, said it best: "There's not a shortage of brilliance in this community. There is a shortage of access and opportunity."
With the new Teen Tech Center, we're looking to bridge both of those gaps.
Best Buy will build on the momentum by opening three more Teen Tech Centers in the coming weeks at Keystone Community Services in St. Paul, Minnesota, Clark County Library in Las Vegas and Hope Community in Minneapolis.
Meanwhile, we are accepting request for proposals for Teen Tech Center host organizations currently serving teens in Detroit; Hartford, Conn.; Houston; Indianapolis; Milwaukee, and St. Louis through Dec. 21, 2017. We plan to expand to 60 locations across the U.S., as well as Canada and Mexico, by 2020.
For more Best Buy for Good news, follow us on Twitter @BestBuyCSR.