Most 6-year-old boys will probably be wearing superhero costumes for Halloween this year, but not Aidan Markworth. He's dressing as a Geek Squad Agent.
The Ohio first grader already has the persona nailed down. He has a white shirt, a black clip-on tie and a serious love of technology.
"He desperately wants to work at the Geek Squad," said his mom, Kelly. "He breaks down and starts to cry when I tell him his has to wait 12 more years."
Aidan's passion for technology started with a child's tablet and asking the Google Mini questions. He's now shifted his attention to his small collection of cellphones, and he spends countless hours watching unboxing videos and repair tutorials on YouTube.
"The newer phones get, the technology — and the motherboards and other stuff inside — is way cooler," Aidan said.
When Kelly's brother recommended a Geek Squad costume for Halloween, it was a no-brainer.
"He was really excited," Kelly said. "He wanted to go to work. He thought he was going to go to the store and get a job."
'A big impression'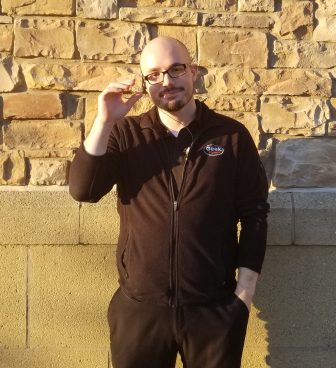 Aidan and Kelly recently visited their local Best Buy store in Strongsville, Ohio, to further research the costume. While they were there, the youngster made fast friends with real-life Geek Squad Agent Kerrnon Moore.
Soon, the tech enthusiasts were chatting about the latest smartphones while walking around the store. And Agent Moore even recommended some new YouTube channels for Aidan to check out.
"He made a big impression on me," Agent Moore said.
Now, Agent Moore hopes to track down a Geek Squad Junior Agent badge for the boy's costume in time for Halloween.
"I just love Geek Squad. We get to do a lot of cool stuff," he said. "So, when I heard someone wanted to be a Geek Squad Agent, I was excited to help."
Aidan, however, remains more focused on his dream of becoming a real Agent. And if he has his way, Agent Moore might even end up working for him.
"I'm going to be in charge of that whole entire store," Aidan said.
---
Do you have a future Geek Squad Agent at home? Best Buy offers virtual Geek Squad Academy courses for kids to explore areas like coding, robotics, video game design and more. Click here to learn more.