As Vicki Brown, home services senior manager, reflects on 25 years and counting with Best Buy, one word stands out to sum up her experience: possibilities.
In 1994, Vicki found herself making a career pivot. After years of living in the Bahamas and running a small hotel, she and her husband decided they wanted their children to attend school in the U.S.
So, Vicki took the plunge and moved with her three children to Florida, while her husband remained in the Bahamas to manage the hotel.
Vicki found a retail job but was soon recruited by a neighboring Best Buy store to join the company's manager-in-training program. It was a bit of risk — the pay was less than her other job — but Vicki was confident this new role would position her for long-term growth.
"Sometimes you have to take a step back to take a step forward," she said.
It turned out to be a significant turning point in her life.
An unforeseen tragedy
Just three weeks into her new role, Vicki's world collapsed. She received a call that her husband was in a coma after being critically injured during a home invasion in the Bahamas.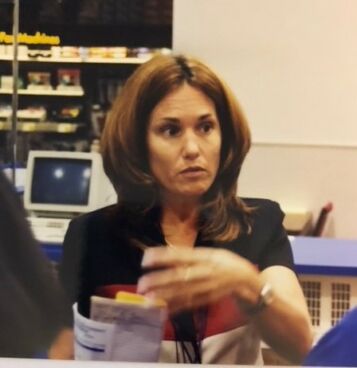 "It was shocking," Vicki said. "I had to drop everything and go."
She was afraid she would lose her job because she had to leave so suddenly for an extended period. Her general manager quickly reassured her and told her to be with her family for as long as she needed and that she would be paid while she was gone.
Vicki's husband was in a coma for six months before passing away. When Vicki returned to work, she was concerned that her team would see her personal issues as baggage. She had three children to support on her own and was behind in the training program.
But her general manager saw her potential and worked with Vicki on a flexible schedule. In addition, Vicki said her manager promised her that she would one day own her house if she continued to grow with Best Buy.
"At the time, I thought, 'OK, I just want to be able to buy groceries without worrying,'" Vicki said. "Paying off my house was the last thing on my mind."
Seizing opportunities to make dreams possible
What once seemed like an impossible dream would eventually became reality.
Thanks to the encouragement of her manager and other leaders, Vicki enrolled in Best Buy's 401(k) program and employee stock purchasing program. She didn't put in much, but she contributed what she could to build up her assets for the future. When the Best Buy stock split in the early 2000s, Vicki sold her shares and was able to pay off her mortgage.
"It was an incredible moment," she said. "When I think about all what Best Buy has afforded me, it has absolutely given me financial freedom with additional opportunities and promotions."
Vicki continued to advance in her career, eventually becoming a district services manager, human resources manager and territory trainer. She held other roles, too, until she joined the home market services team.
"My managers have always cared about me as a person," Vicki said. "There have been many times where they saw potential in me that I didn't even see in myself."
Finding personal and professional fulfillment
Vicki's opportunities with Best Buy haven't been limited to financial or career advancement.
In 2009, Vicki decided to grow her family by adopting her fourth child, Nikkito, and was supported by Best Buy's adoption assistance program. Nikkito has picked up on the family's Best Buy legacy and currently works as the lead installer with the Geek Squad Custom Home team in Orlando, Florida.
In fact, all four of Vicki's children have worked at Best Buy at some point in their lives, and Vicki says she hopes her grandchildren will one day work for the company, too.
What's next for Vicki? She's open to seeing where life leads her. Every year she swears she will retire, but it never feels like the right time. For now, she's still having fun and loves the people on her team.
"This Best Buy journey has been such a pivotal point in my life," Vicki said. "I couldn't have accomplished what I have at any other company."
We provide many benefits to support employees' well-being, including mental, physical, financial and work-life. Click here to learn more about careers at Best Buy.