It all started innocently enough.
As Walden III Middle School in Racine, Wisconsin, was kicking off its annual holiday classroom door decorating contest, a colleague walked by Jeff Ruggaber's display, caught a glimpse of gingerbread, and tried to find out what his students were creating this year.
"Uh, it's a Best Buy!" answered Jeff, an art teacher.
With the competition relying on the elements of mystery and secrecy, and people constantly trying to scope out what others are doing, Jeff's response just popped out.
"I'm not sure why I said, 'Best Buy.' I mean, I do shop at the store all the time," he said. "Or maybe I was thinking of my friend, Dan, who works there."
But something with the idea of a sugary sweet shop seemed to stick. Jeff and his home group students — sixth, seventh and eighth graders who meet together twice a day — decided to keep up the ruse and build out the blue.
Elves at work
Over the past several weeks, the middle schoolers hustled and bustled to construct their gingerbread Best Buy, dubbed the North Pole store. They made elves — a Geek Squad Agent named Danny (after Jeff's friend, Double Agent Daniel Dahlke, whose daughter is also in Jeff's class) — and two Blue Shirts. The students call one Jeremy because they like the name, and the other Kim (after a school staff member who's a former Best Buy employee).
They've also crafted candy canes, gum drops, snowflakes and gift boxes complete with price tags. And you can't miss Santa and his sleigh, filled with toys and electronics hand-drawn by the elves of Mr. Ruggaber's room.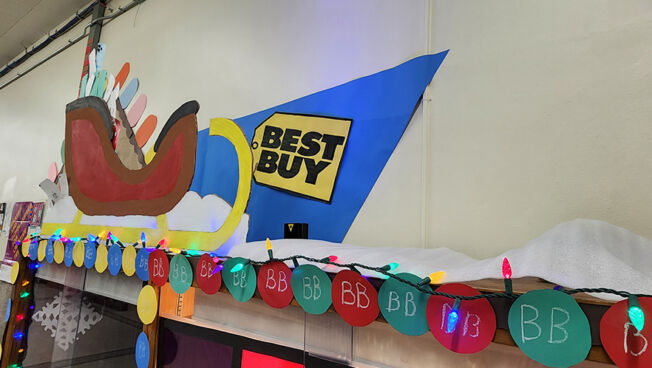 More in store
As the festive store took shape, it became a talking point throughout the school, Jeff said.
"It's funny because the kids who are not in my home group walk by and ask if stuff is for sale," he said. "My students say it's the Best Buy where Santa gets all the electronics for kids for Christmas. So that's our story."
Whether or not Jeff's class takes the top prize in the door decorating contest, he already feels like they've won. "Just seeing the kids work together, across the grade levels, it's been a fun process to watch," he said. "In 29 years of teaching, it's always about the kids and if they're having a good time. And the learning just happens."