There are a few defining moments in a person's life, and graduation is one of them.
It's a time for ceremony, celebrating accomplishments and dreaming about the future. It's also a perfect time to break out your camera to capture the special moments.
Photos provide lasting memories, so we asked Philip Wright — a Sony expert from Best Buy Store 450 in Portland, Oregon — to share tips on how to capture great graduation day shots. The big three moments you don't want to miss? Getting the diploma, throwing caps in the air and portraits afterward.
What to know before you go
Check the following before you head to the ceremony:
Battery – Make sure it is charged — and in your camera — before you leave the house.
Memory cards – Use large capacity memory cards so you can take lots of pictures. Select the maximum image file size possible on your camera so you can edit and crop without distortion.
Lenses – If you have a DSLR, bring an assortment of lenses. At minimum, have a long telephoto lens, in the 70-300-milimeter range, and a standard wide lens. (And make sure all of your lenses are smudge-free.)
(Best Buy's DSLR Camera Buying Guide can tell you all about camera features and accessories.)
Receiving the diploma
Arrive early to the commencement ceremony to get a good seat. You'll want to know which way the graduate will walk across the stage, because you want to see a smiling face, not the back of a head. Take some test shots and adjust your camera settings as needed before your graduate's turn.
Philip recommends using a continuous shooting mode for action shots to get as many images as possible and increase your odds of capturing what you want.
"If you're not using manual settings, use "Action" scene mode when the graduate walks across the stage to get their diploma," he said. "And, if you are in the stands, you'll want to use a nice, long telephoto lens, because you can't always be in the front row."
Don't be afraid to take a variety of wide and tight shots, as long as you have enough room on your memory card. You can always crop the images later.
If the ceremony is taking place inside a darker gymnasium or theater (or outdoors at night), you might want to use manual settings to increase the ISO, which makes your camera sensor more sensitive to light and allows for faster shutter speeds. That will help brighten up the photos.
Graduation caps flying
The big picture that everyone wants to get is when the graduates toss their caps in the air.
"For this shot, you definitely want a fast shutter speed," Phillip said, "And, if possible, you want to be set to continuous auto-focus. You may also want a wider lens so you can get more of the area in there."
If you're not using manual settings, he recommends using "Action" scene mode for this shot, too.
"Using 'Burst' mode will allow you to capture the maximum number of pictures while caps are flying," Philip said. "Some cameras automatically go into Burst mode when in Action scene mode, but others need to have this set manually. Focus on the graduates, and click away."
It's tough to get this shot with your cellphone camera unless you have a great seat and there's plenty of light. You might want to use it to capture a wide-view video of the caps flying instead.
Graduates and group shots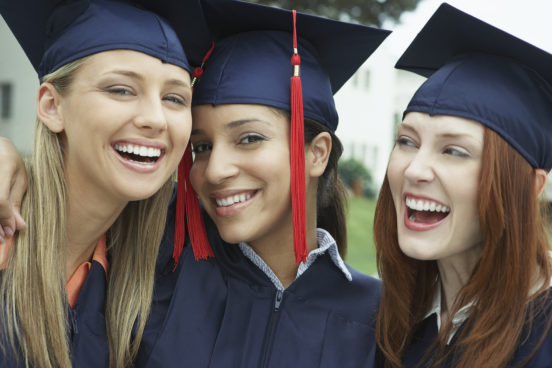 Finally, you'll want to get some photos of the graduate with his or her diploma and/or friends after the ceremony. Philip suggests taking these portraits in "Aperture Priority" or "Portrait" scene mode to get the best results.
"Be mindful of the background at the very least because it can make a good shot great, or it can make a good shot bad," he said. "You want to make sure there is nothing odd in the background, like a pole that appears to stick out of the subject's head. A wider aperture or fast zoom lens will give you a blurred background."
Using a pop-up flash is generally not recommended for portraits. "But if you are outside and the sun is high in the sky, the popup flash will provide the right amount of fill lighting to soften harsh shadows," Philip said.
Your smartphone camera will do just fine for most group shots, especially for social media posting.
And don't forget to get on the other side of the camera. Even though you're the "family photographer," you'll want to get someone else to take a couple of shots so you can be included in the picture with your graduate.
Want more ideas for how to get the perfect graduation photo? Check out the photography tips and tricks on BestBuy.com or sign up to attend the Graduation Photography workshop at select Best Buy stores on May 6.