Vacations and active outdoor sports are a natural pairing. If you're itching to get off your beach towel this year to burn some calories instead of your skin, why not try an active outing such as hiking, mountain biking or stand-up paddle boarding? You'll enjoy a healthy dose of fresh air, and all three activities can easily be done by beginners.
To help you get ready for your new adventures, we asked the outdoor gear and activity experts at REI for some helpful advice. Ken Knapp, REI Expert Advice editor, shared a few of his favorite tips for those just getting into these sports.
And while you're moving, don't forget there are plenty of gadgets to help you enjoy and chronicle your activities. Geek Squad Agent Jonathan Davis, an avid outdoor enthusiast, provides some tech companions.
Hiking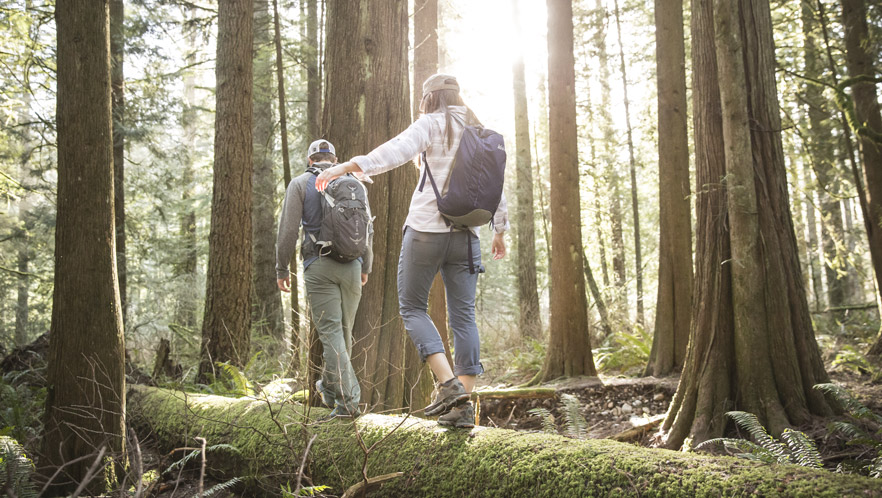 Short strolls through the woods don't require an elaborate game plan, but if you're going to be on the trail for most of the day, some pre-hike prep is in order.
Plan your outdoor outfit: Avoid cotton and instead choose clothing made of quick-drying, moisture-wicking fabrics, such as wool or polyester. You don't need beefy hiking boots, but you do need traction underfoot: Try trail-running shoes, which look like your city sneakers but are sturdier. And it's always wise to carry a rain jacket.
Watch your water intake and output: A rough hydration guideline for hiking in moderate temperatures is about a half liter of water per hour of moderate activity. Seemingly clear lakes and streams sometimes hide things you'd rather not drink, so either bring enough water for the full hike or pack a water filter. If nature calls, go somewhere at least 200 feet away from any water source to avoid contamination. It's also good to familiarize yourself with Leave No Trace principles, and be sure to pack out whatever you pack in.
Out on the trail: A smartwatch is a great way to not only keep track of the time but also monitor your fitness activity. And if you're out on a long hike — especially taking advantage of REI's Hiking Project trail-finding app — it's a good idea to bring a portable solar charger to give your devices some juice.
If you're looking for a complete rundown on things new hikers need to know, read the REI Expert Advice article Hiking for Beginners.
Mountain biking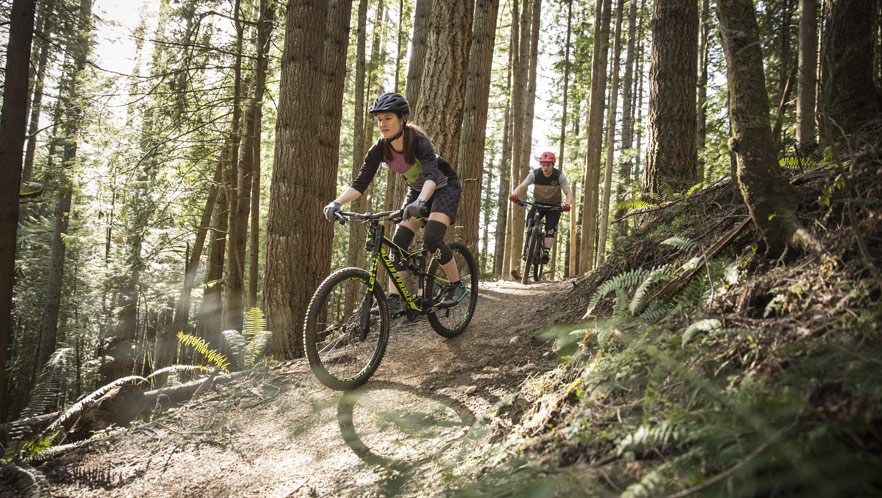 If you're new to mountain biking, take it slow at first. Ride on a dirt road or wide, gently graded trail (and always wear a helmet!). Below are a few tips to get you started:
Pick your line: When you're on your bike, keep your eyes focused about 15 to 20 feet ahead. A beginner's mistake is to look at spots you want to avoid rather than focusing on where you want to go. Pick your path and stick to it to get over and around tricky sections of trail.
Learn to put the brakes on: Make sure you're consistent and controlled when braking. Apply front and back brakes lightly and evenly — too much front brake can send you over the handlebars. Avoid sudden, fast braking to prevent skidding.
Capture the thrills: Action cameras are the way to go if you want to hold on to those two-tire memories. They keep up to your speed, catch all the angles and take great photos and video.
To learn more, check out REI's article on Basic Mountain Biking Techniques.
Stand-up paddle boarding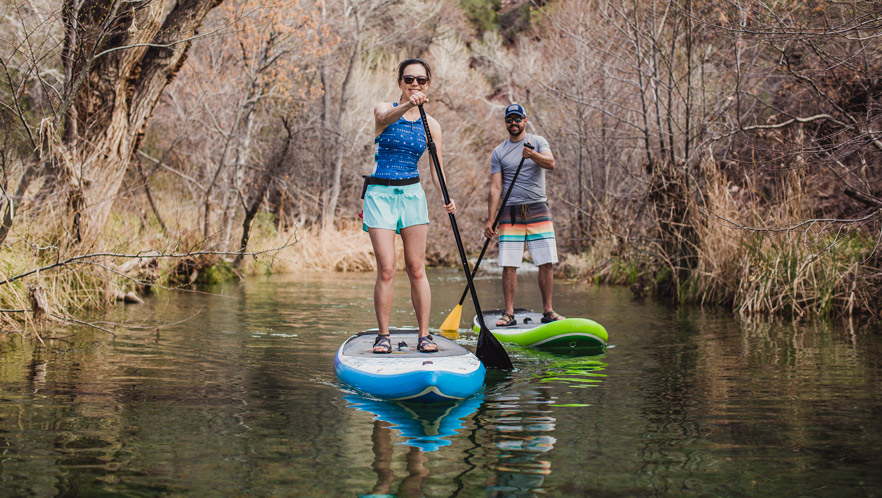 One water sport that everyone seems to love lately is stand-up paddle boarding (SUP). SUP tours and classes fill up quickly at REI locations that offer them. If you're ready to take the plunge, keep the following in mind:
Embrace the splash: Falling and spending time in the water is part of the fun, especially when the water is tropical. So, when you feel yourself starting to go, don't fight it. Launch yourself away from the paddle board so you don't hit it. Also, there's no shame in sitting or kneeling while you work on your balance — and confidence — until you're ready to stand up.
Hold your paddle properly: One of the most common mistakes a beginner makes is holding the paddle wrong. The blade should angle away from you with the tear-drop-shaped blade pointing toward the nose of the board. When you paddle on the right side of your board, put your left hand on top of the T-grip and your right hand should be a few feet down on the shaft. Reverse positions when you switch.
Keep devices dry: You might want to have your phone along to take a selfie or shoot that far-off shoreline. But water and electronics often don't mix. Seal up your smartphone in a waterproof case. Pro tip from REI: Put your phone and any other valuables in a small dry bag and clip it to a bungee cord on the deck of your board. A waterproof case isn't going to help if it sinks to the bottom of the lake.
To learn more about the gear and skills you'll need for paddle boarding, read REI's article on Stand Up Paddle Boarding (SUP) Basics. Want to pick up more outdoor skills? Check out REI Expert Advice.
(Photos provided by REI.)
Best Buy carries a range of tech to help you get the most out of your outdoor activities. Check out BestBuy.com or stop by a nearby store to learn more. And Geek Squad is ready to help repair or protect your tech when you need it.