The buzz is no longer virtual: Oculus Rift, the highly anticipated virtual reality system, is available for pre-order today on BestBuy.com.
Virtual reality, or VR, is a new technology that allows users to immerse themselves in lifelike locations — like a packed concert or the depths of the ocean — using a headset that's paired with a PC, smartphone or other device. The technology lets you live in your favorite video game or even virtually "hang out" with friends from the comfort of your own home. The possibilities are endless, and this is the year VR becomes more accessible to consumers.
Many gamers and tech types are super excited about the new devices. Many others have questions  about the new technology and its uses.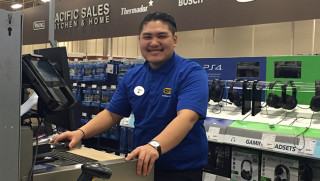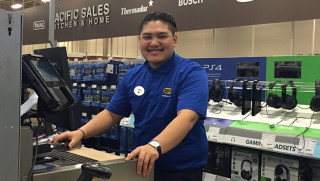 Best Buy Blue Shirt Sid Demesa is here to help.
Sid is a sales consultant at Best Buy in Los Angeles by day and a hardcore gamer by night. His passion for technology extends beyond his shifts at Best Buy, as he spends his free time listening to gaming podcasts and keeping up with the latest VR news. He took some time out of his busy day to answer a few questions about the new technology.
1.   What are you most excited about when it comes to VR?
It's the evolution of the television, where you're no longer confined to a fixed screen when viewing media, whether it's a movie, your favorite TV show or a video game. By putting on a headset, VR allows you to experience it firsthand. I'm most excited about the impact it will have on video games and creative works, such as movies.
2.   Is it only for gamers?
No. It's true that VR will create a deeper gaming experience because video games already are so interactive and PC gaming, specifically, intersects well with VR. But there are, and will be more, practical uses for the devices. Imagine training for surgery; touring a new house or cool city from afar; attending sporting events, or even seeing the president's speech as though you were in the front row – all through VR. Those are just some of the uses, and we will see many more.
3.  How should customers prepare for virtual reality?
PC gaming systems play a big role in VR.  For most experiences, customers need a high-powered, compatible computer. (For example, to pre-order the Oculus Rift headset through Best Buy, you'll need to choose one of seven Oculus-ready PCs to go with it.) Other systems, like the Samsung Gear, require a compatible Samsung smartphone.
4. What is the one thing people should know about VR?
People shouldn't feel intimidated. This is the future. Virtual reality has the potential to change the way we consume our media.
5. Where can you find content, such as games and movies?
Because VR is still very new, content is constantly being developed.  Customers can download content for platforms like Samsung Gear and Oculus Rift from the Oculus Store.
Pre-order Oculus Rift on BestBuy.com now. It should be available later this spring.