Whether you're hosting the Big Game for your buddies or just gathering with the family at home, the right TV will make all the difference in your viewing experience.
Nick Larson, a Magnolia Home Theater expert in Dallas, has tips for how to pick the best television to help bring that stadium feel right to your couch.
Know what you want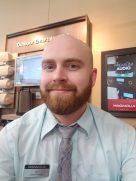 You already know what will create the best game-day experience for your crew. Now, you just need to get the right TV to make it perfect.
Share your vision with a Magnolia designer or home theater expert at one of our Best Buy stores, telling them how you want to see that field goal when you're at home.
When you're at the store, try to recreate your at-home viewing experience by looking at  the TVs from the same distance and angle as you would at home on your couch. Test it out with the TVs on display to see what feels right to you.
"We can actually show you what football is going to look on the TV in your home," Nick says.
Pixels are key
Why did the TV miss its show? Because it was pixelate (ha-ha!). Pixels are what a TV uses to create the best image on your screen, and more pixels equals better clarity. Clarity is the No. 1 concern for the customers Nick helps.
Getting a 4K TV, like an OLED 4K Smart TV from LG, is important if you want clarity. A TV with 4K resolution has four times the number of pixels of 1080p, giving you that true-to-life picture.
"Every single time movement happens on the screen, we need that picture clarity to be as good as possible," Nick said.
Picture + sound = amazing experience
Captivate your crowd by achieving the perfect mix of picture and sound. Those big, clear TVs don't always come with the best built-in sound. So, consider a soundbar to boost your experience, so it makes you feel like you're right on the field.
"Sound keeps us hyped up," Nick said. "You hear the roar of the crowd and the announcers talking about what just happened in the last play."
Pick up or delivery and install?
Now for the final quarter — getting that TV home.
Transporting it yourself can be tricky, and TVs are fragile. You'll want to keep it upright in your car and follow all unboxing instructions to avoid any permanent damage.
Or just leave it all to us. Our Geek Squad Agents can deliver your TV and accessories to your home and get everything safely installed.
"Let an expert get out to your home, get it all connected and make you an expert," Nick recommends.
For more information on picking out the best TV for your space, and TV deals ahead of the Big Game, visit BestBuy.com or your local Best Buy store to chat with an associate.