For Damien Harmon, Gary, Indiana will always be home. It's the place that raised him, invested in his future, and gave him the confidence to go out and chase his dreams.
Now Executive Vice President of Omnichannel at Best Buy, a role where he leads stores, Geek Squad and all physical customer touch points, Damien is giving back to his hometown the best way he knows how – through tech. Alongside his wife, Katy, they are sponsoring Gary's first Best Buy Teen Tech Center®, giving Gary teens access to technology that will help them shape their futures. The center is partnering with the Boys and Girls Club to improve tech equity through access, training, and mentorship for young people in the community. 
Gary, a city that was once known for its industrial activity, has since decreased in population and faced economic challenges – making it only more important to Damien and Katy that its youth have opportunities like these.
"We want this to be a space where teens can go to gain the skills and mentorship to become who they never thought they could be," said Damien. "The Teen Tech Center is here for the next singer, artist, composer, or gamer to have the opportunity to really maximize their potential."
It's also the 50th Teen Tech Center to open, a major milestone toward Best Buy's goal to support 100 U.S. locations by 2025. The center will open its doors August 11 to welcome the surrounding community and future teen tech center members and mentors.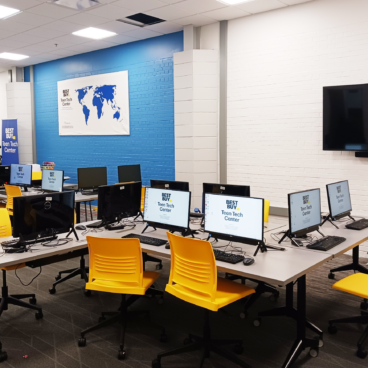 Giving back to the community that raised him
Damien quickly credits his friends and family members for shaping him into who he is today.
At a young age, he stood out as a star athlete on the football field. It was his mom that always instilled in him that his future wasn't just limited to sports, but that he had the potential to be whatever he wanted when he grew up. His mom owned several businesses, showing him what it looks like to follow your dreams, and it was his mom, aunts and uncles who taught him the importance of accountability in school and volunteer work in the community.
"I'm going to invest in the city because the city invested in me," said Damien. "I'm an outcome of the city, and the ability to come back and show kids who look like me that they can create a life outside of sports is a special opportunity."
One of the businesses that his mother owned was a local daycare, a place Damien recalls for creating a strong sense of community. It was the place where he was surrounded by family and loved to play video games with his friends. Looking back on those memories is what reminds him how valuable it is to have somewhere you can feel safe to learn, grow, and do the things you love.
Damien always knew he wanted to give back to his community and create a space that gave kids that same feeling, it was just a matter of finding the perfect opportunity.
After attending the grand opening of the Best Buy Teen Tech Center® in Selma, Alabama in 2019, he knew exactly what that opportunity would be: bring a Teen Tech Center to his hometown so kids could have the experiences that he never could have imagined when he was growing up.
So last year, Damien and his wife started The Damien and Katy Harmon Foundation as an ode to the city of Gary and in honor of the lives of Damien's family members, past and present.
Damien credits his mother, Dr. Geraldine Harmon-Fields, for the inspiration behind bringing a Teen Tech Center to Gary.
"It's important to do what you can, as often as you can, for those around you," said Dr. Geraldine Harmon-Fields. "It's our responsibility to secure the future, and that's exactly what we're doing through the Teen Tech Center."  
Where tech inspires
Best Buy Teen Tech Centers®, funded by the Best Buy Foundation, provide safe, after-school spaces where teens can get hands-on experience with the latest technology. Adult mentors and volunteers provide support for teens to create, innovate and explore their passions in areas like film, digital media, audio engineering, music production and more. 
Our goal is to reach as many teens as possible from disinvested communities across the nation to build a strong talent pipeline and highlight the importance of teen mentoring programs and accessibility to tech for teens everywhere.   
Best Buy Teen Tech Centers are supporting teens in achieving their dreams through:  
The

Los Angeles Community Impact Hub

, a network of up to 12

Best Buy Teen Tech Center locations, to build community through technology and strengthen the talent pipeline across the country.

A

campaign

for customers to make an impact by being part of our mission to reach thousands of teens each year through Teen Tech Centers 
A

$44 million commitment

to expand college prep and career opportunities for BIPOC students and increasing scholarship funding for Teen Tech Center youth.

A

national ad campaign

focused on the power of mentorship featuring Teen Tech Center teens, a

nd

more.
We know that creating tech equity across the nation isn't something that will happen overnight, but through one dream, one mentor, and one Teen Tech Center at a time.   
Click here to learn more about our commitment to help young people across the country.   
To learn more about Best Buy Teen Tech Centers, visit bestbuy.com/teentechcenter.