After 6 hours and four minutes slogging through mud on a hilly, barren landscape, Karen Hohertz crossed the finish line to complete her marathon in Antarctica.
Those final steps, taken with tears in her eyes and pride in her heart, marked the completion of her goal to run 26.2 miles on every continent. It was a challenge she took on less than a decade ago.
"It was amazing, super fulfilling," said Karen, who has worked at Best Buy for 30 years. "I thought back to all the training and the cost to do this. The constant focus and perseverance is over."
While Karen's journey has been about discipline, focus and grit, it has also been about learning to rewrite a narrative she lived with most of her life. When she was a young child, a soccer coach told her that she ran "funny" and could only play goalie. That comment turned her off to athletics until she turned 40.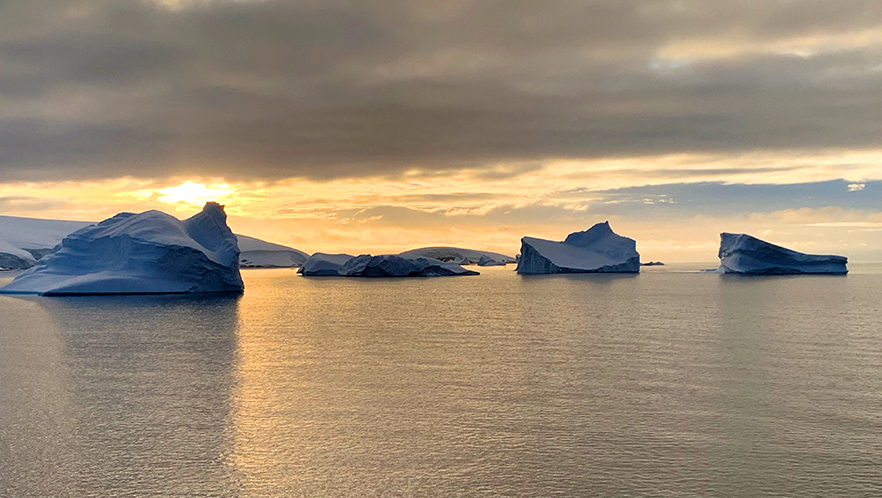 A marathon per continent
In 2010 she decided she needed to get her heart in shape and started training to run a 5-kilometer race. She finished, and it was emotional for her. She wanted to do more.
"If I could run one marathon then I could drop the story that I'm not an athlete," she told herself.
So, in 2011, she signed up to run a marathon in the Twin Cities but got injured before it happened.
She recovered and retrained and finished her first two marathons in 2012, in Florida and the Twin Cities. Then she ran in Chicago in 2014 and New York in 2015. The next year was a big one with races in Tokyo, Boston and Berlin.
At that point, Karen realized she had run on three continents and only had four to go. Why not try to run a marathon on every continent? "I always like to have a bucket-list goal, there was a cool factor and we love to travel," she said.
In 2017, she completed marathons in London, Brazil and New Zealand. Last summer, she finished a race in South Africa in a wild game preserve.
That left only Antarctica, the most remote location of them all. It took three plane rides and 40 hours on an old research ship, rocking through rough seas half the time, to get to King George Island, where the marathon was held on March 17 and 18. About 200 runners made the trek to run in two groups on the two days. Karen's husband, Matt Jacobs, also went to run his second-ever half marathon.
They saw clear waters teeming with whales, hundreds of penguins and seals, and vast, mountainous expanses of ice. At times, the pure silence — no traffic, no machines, no humanity — could be deafening.
"It was surreal, like being on another planet," she said.
Running for a cause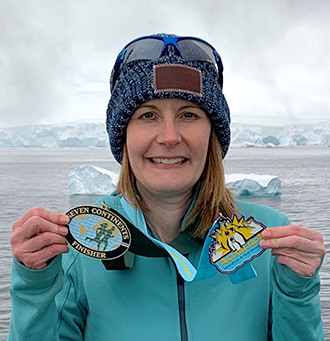 While she has been running for personal reasons, Karen also has been running for something else: to raise awareness and money for pediatric cancer.
On March 31, 2007 — she remembers the day vividly — Karen took her 11-month old daughter to Children's Minnesota, where she was diagnosed with stage 4 cancer throughout her body. Kate went through eight rounds of chemotherapy and is now a healthy 12-year-old.
Since then, Karen has done lots of work to help other families and organizations. She has represented nonprofits that fund pediatric cancer research. She readily admits she's not the fastest of runners, but running for a cure helped her get into some of the bigger marathons.
Karen also serves on the boards of two nonprofits, one that helps middle-school students learn character and another that encourages girls to get into healthy life habits and running.
That's all in addition to spending time with Kate and 15-year-old son, Ryan, her husband and two dogs. Her team at Best Buy has also allowed her to have a flexible schedule to get her training runs in.
How does she make time for it all? "You just have to give things up," she said. For example, Karen said, she has never binge-watched a TV series.
While she might not be focused on the stories on streaming services, she has learned a big lesson from running. It's the power of a personal story, and how we all can influence how it turns out. "What could I have done differently if I hadn't listened to that coach," she said.
Maybe she would have run marathons on every continent, or maybe she wouldn't have. But the fact is she's logged 314.4 official racing miles around the world because she overcame what that coach told her she couldn't do so many years ago.
She even ran another 26.2 on April 7 in St. Louis.
Now, she plans to slow down and spend more time with her family.
Maybe.
"I'm a better person when I run," she said.