About 80 million U.S. households have at least one pet, mine included.
Whether you've had a pet for 12 years or 12 weeks, like me, there are two things I think most pet parents can agree on. First, we love our fur babies dearly. Second, they can require a lot of care.
If you have one of the U.S.'s nearly 164 million pet dogs and cats, you're likely used to making sure they get the food, exercise and fun needed for a happy life. Now, technology is lending a helping hand.
For National Pet Month, my pug puppy, Rudolph, and I teamed up to try out some of the latest gadgets.
Here's what you should know.
No more scratching at the bowl
Many pets eat on a daily feeding schedule. (Rudolph does because it helps with potty training.)
Like most, I work a full-time job and can't control when he eats lunch. With the PetNet SmartFeeder, now I do.
It connects via Wi-Fi to the PetNet smartphone app, giving you complete control over when and how much your pet eats, even when you're not home.
In the app, I set up Rudolph's profile, including his age, weight, pet food brand, the number of meals he eats per day, and when he eats them. I filled the SmartFeeder with food, went to work and began the test.
Throughout the day, I checked the app and saw that he ate breakfast and lunch. When I came home, the bowl was empty. Success!
And, if you ever need to manually feed your pet, a button on the SmartFeeder will dispense food when pushed. You can use the app to order food on a recurring basis, too.    
Wearables aren't just for humans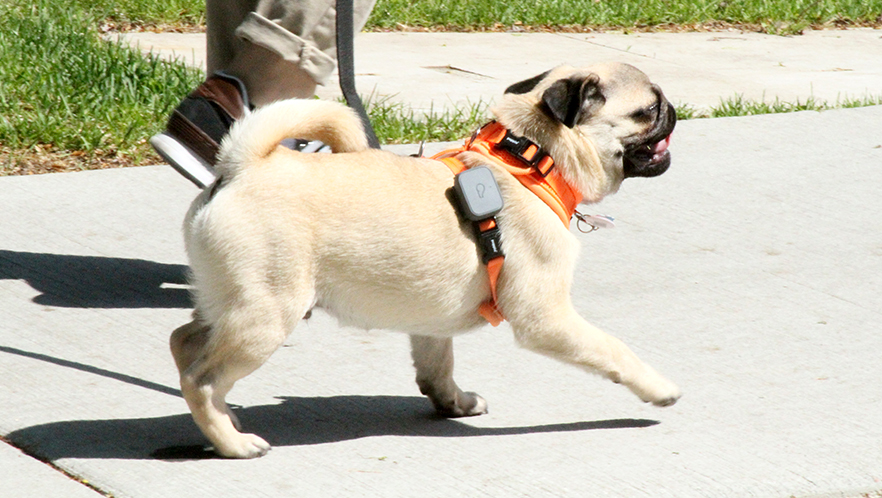 Some pets, especially puppies like Rudolph, are bursting with energy. So, it can be a guessing game to make sure they get the exercise and rest they need.
At the same time, owners of energetic pets might be used to securing collars and harnesses snugly when they're outside, in case they wiggle free and bolt.
The Whistle 3 GPS location and activity tracker is a two-in-one device that tracks where your pet is and how much exercise and rest it gets. The tracker latches simply onto a collar or harness.
Using the Whistle 3 app, set up custom alerts for when your pet leaves or returns to a set location (i.e., home). It uses Wi-Fi when it's at a designated place and GPS (purchased through a plan) to monitor when your pet is out of wireless range.
Thankfully, when testing Whistle 3, I didn't have to use the GPS tracker because Rudolph stayed close to home. However, with him being a short-nosed, short-legged pug, I found great benefit in the activity tracker.
Using the app, I input Rudolph's age, breed and weight. After one day of use, the app said he wasn't getting enough exercise on days when I worked, so I took him on longer walks. It paid off, because he's sleeping extra soundly at night.
Supervised pet playtime
Leaving pets home alone can be hard on owners, too. When I'm gone, I wonder what mess awaits me at home.
With the Petcube Play camera, I finally know what Rudolph does during the day. It connects via Wi-Fi to the Petcube app, where I can watch a live feed of him. I also set up alerts to tell me when he's moving around.
My favorite feature, however, is the two-way audio. On Day 1 of testing Petcube, I saw he was chewing up a potty pad. I said "Rudolph, no," and he heard me! He even quit chewing.
Above all, I used the laser toy feature to play with Rudolph when I wasn't around (and when I was!). Using the Petcube app, I simply drew on my phone's screen to control it. Rudolph goes wild. Every. Time.
To learn more, visit your nearby Best Buy store and talk with an expert Blue Shirt, or browse the pet tech products on BestBuy.com.